Adrian J Cotterill, Editor-in-Chief
Continuing significant investment in new technology and innovation, Australia's most progressive Outdoor media operator APN Outdoor, launched the next stop on their XtrackTV journey, with four new full motion and audio screens going live at Perth Station this week.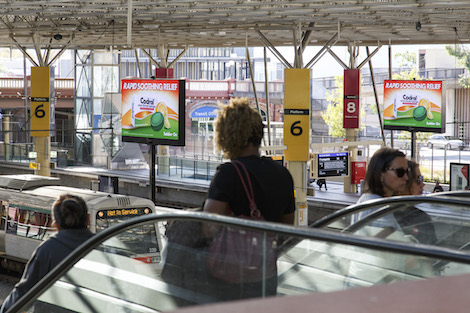 Strategically placed across platforms 5-8, the screens will truly capture the audience's attention, with each LED screen measuring 2.5 x 4.5 metres.
Launching in 2015 XtrackTV has revolutionised Outdoor advertising enabling brands to extend their screen strategy. XtrackTV engages consumers with entertaining commercials interspersed with content pieces from providers including Sky News.
APN Outdoor's General Manager of Sales, Mark Fairhurst told us "We are thrilled to be launching in Perth – the next stop of our XtrackTV journey. We know the rail environment is a unique one, with over 180,000 passengers travelling through Perth Station each week, this is the perfect environment for our partners and advertisers to influence consumers during their commute. Consumers are seeking to be informed and entertained during their "empty moment" on the rail platform. We know the format works – a recent cross media study conducted for a major automotive brand revealed that XtrackTV drove the highest results for taking action, and remarkably, 8% went on to purchase the car after seeing the ad on XtrackTV. We are confident similar success for many clients will occur with the addition of the newest screens in Perth."
APN Outdoor's XtrackTV portfolio now encompasses 82 screens, strategically placed in some of the busiest stations in the country. Among these are Central, Town Hall and Wynyard in NSW, Melbourne Central and Parliament in VIC, Fortitude Valley and South Bank in QLD and Adelaide Central in SA. Perth's new XtrackTV screens will serve passengers travelling on routes to Armadale, Fremantle and Midland and acts as a gateway to the city's CBD.