Signagelive has announced a new strategic partner Layered Solutions Inc. who are based in Carmel, Ind.
They provide mass notification communication – whether in an emergency or a general announcement – through their unique software and mobile application platform that integrates with digital signage as well as fire systems, public address systems, LED signage, physical security systems and social media.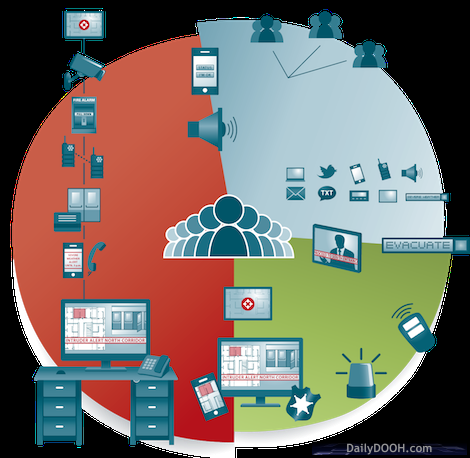 Layered Solutions is providing Signagelive channel partners and customers with the ability to interrupt Signagelive managed digital signage displays and players either spontaneously or in the event of an emergency.
Jerry Geis, president and founder of Layered Solutions told us "Integrating our software solution into Signagelive's cloud-based technology provides end users with the ability to interrupt daily content with a special announcement or emergency communications is imperative to the well being of employees, customers, patients or students and, the messaging is pre-programmed and can be controlled from a PC or even through a mobile app."
Jason Cremins, founder and CED of Signagelive added "Utilising our Web Triggers API, Layered Solutions enables instant take-over of any number of Signagelive managed displays or players regardless of the physical location of the device anywhere in the world. The requirement for mass notification and emergency messaging has extended from education into corporate offices and retail locations as a means to keep employees, visitors and customers informed and safe at all times. Signagelive and Layered Solutions provide a powerful, scalable and cost effective digital signage with mass notification solution, which we looking look forward to recommending to our partners and customers."


Layered Solutions integrates emergency and mass notification communications technology with existing platforms – including digital and LED signage, fire and security systems, and social media for clients in education, healthcare, industrial, commercial and government sectors. Layered Solutions delivers information to multiple recipients simultaneously, enabling faster response times, safer environments, and even life-saving results. Layered Solutions is a national emergency management solutions provider headquartered in Carmel, Ind.