Adrian J Cotterill, Editor-in-Chief
If there was one consumer brand that made an impact to many last week during New York Digital Signage Week, it was Microsoft. Not only was Microsoft's Corporate Vice President of Brand, Advertising and Research, Kathleen Hall by far the best and most popular speaker at last Wednesday's DPAA #VideoEveryWhereSummit, we know that dozens of people (mainly retail analysts and retail / AV influencers) left New York with a completely different view of the big, (perhaps once-faceless) Redmond, Washington based company.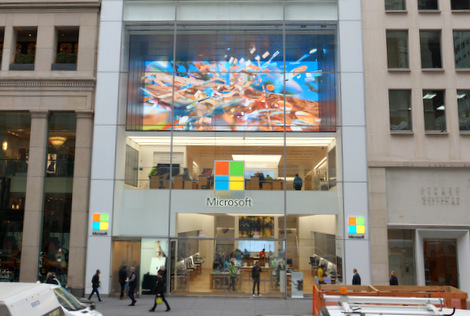 Whilst Apple were kind enough to launch their iPhone X on Friday November 3, 2017 (that's why they get a '1' above), Microsoft scored four goals in quick succession; KATHLEEN HALL / Microsoft VP Brand, Advertising & Research, FLORIN GALE / Microsoft Creative Director, The Microsoft Flagship Retail Store (tour) itself and finally all of their Microsoft Flagship Retail Store staff who we met on the tour (and separately to many others, when shopping 5th Avenue).
Last week we actually met a number of people who seem more than happy to share their 'secret-sauce'; Westfield's Charley Delana and Loren Miller were quick to share everything they know, and all that they have done in turning what most people know about digital advertising and retail in Malls upside down whilst presenting at The DailyDOOH Investor Conference.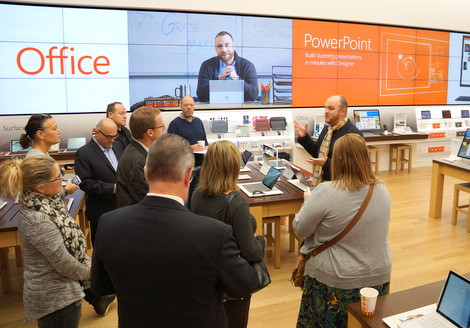 Microsoft's Florin Gale was a prominent other! Five minutes with this guy and you learn so much. He's happy to share, in fact he wants to share, he knows that the more you impart, the more you can learn AND the better the industry will get. To this end he was kind enough, last Wednesday, to open up a tour for the industry's top retail analysts and industry influencers at their Microsoft flagship store on 5th Avenue (Microsoft have two flagships stores; the other is in Sydney, Australia). Microsoft has also recently shared plans to open a flagship location in London.
Let me just say as well that the YCD / C-Nario powered digital signage in the store is second to none! The content is amazing and all produced bespoke in-house.
The tour was scheduled for an hour (07:45 for an 08:00 start til' 09:00) but with everything so interesting, the seemingly never-ending twists and turns in the store itself and the continual discovery of a new floor; who knew they had an IMAX theatre, who knew they had a broadcast studio, who knew the different coloured shirts that the employees each wore meant something, who knew they had an online competition gaming setup, who knew that DELL had its own floor in the store, who knew they had a networking hub at the top of the building for people to use (whilst we were there, a bunch of school teachers were using it to share best-practise on various products) – the conversation flowed and the product demonstrations (like the awesome Hololens demo) were simply thrilling.
Needless to say, it was 10:30 before some people started to leave!!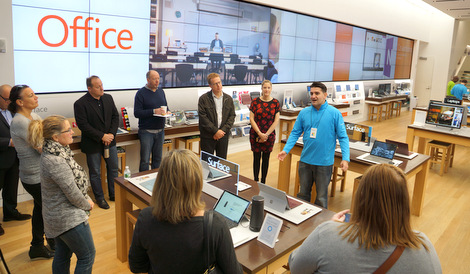 Even if you're a big Apple fan (we are) you know that a visit to their store can leave you feeling cold; the stores are (we feel) dated, full of wires and cables with no central theme, the staff are typically arrogant and often down right rude. We did NOT meet a Microsoft store employee who was not enthused, not passionate about their job (the pride especially in working in the 'flagship' store) and not a technical expert in their particular field.
At 11:00 I was the last to leave the store tour (having very nearly purchased a Surface Pro) with a completely different view of Microsoft, the company, its products, what its brand(s) stand for and its employees. Later that day when I heard the glowing reports from all who attended the DPAA #VideoEverywhereSummit with regard Kathleen Hall's presentation I just knew it was Microsoft's week!