Not many folks may have noticed but during England's FIFA World Cup warm-up game played at Elland Road stadium in Leeds on Thursday June 7, 2018 the UK Football Association (FA) deployed 'Virtual Replacement Technology' on the LED perimeter signage to target different worldwide broadcast audiences.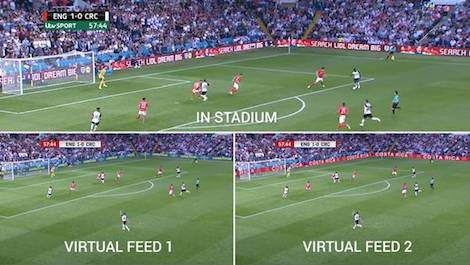 This meant that the advertising seen on the stadium's LED perimeter boards during broadcast coverage was completely different to that in the stadium AND different in each targeted territory across ITV's domestic coverage and the World Feed.
It was delivered for The FA by domestic rights holder ITV in partnership with Supponor, a company that has pioneered digital billboard replacement (DBR) technology, together with stadium technology specialists ADI. The partnership between the two companies to integrate Supponor's virtual advertising replacement and ADI's digiBOARD technologies is now rolling out further across top tier sports markets we are told.
Supponor's CEO, James Gambrell added "We're extremely pleased to see our Virtual Replacement Technology being deployed on the international stage. The work we've done with The FA follows a number of significant developments, including approval of our system for use in Germany's Bundesliga as of next season. We look forward to helping The FA to continue to innovate and be at the forefront of driving value for its partners around the world."
In this instance, commercial rights were managed by Interregional Sports Group (ISG), the UK-based sports media group. ISG secured the rights from The FA to deliver the virtual perimeter advertising for the game and commercialised two concurrent virtual feeds, one being delivered to the Americas and the other to Asia, Australasia and parts of Europe.
ISG joint CEO Tony Ragan said "Working with Supponor we delivered two virtual feeds. One feed carried advertising specifically focusing on fans in Costa Rica and the Americas region and the other carried adverts of a broader international appeal as a result of teaming up with our sales partner Sportseen".
The FA's Senior Broadcast Manger Tom Gracey told us "The potential for Virtual Replacement Technology is substantial. Perimeter LED displays have become a fundamental platform for activating brand partnerships in sport, so the ability to change that message to make it relevant for different fans around the world is hugely appealing for us and our partners. We were delighted to be able to collaborate with various stakeholders in order to deploy it on this occasion."