Adrian J Cotterill, Editor-in-Chief
According to ESPN, 3.2 billion people, nearly 47% of the world's population tuned into the World Cup in 2010, and 2014.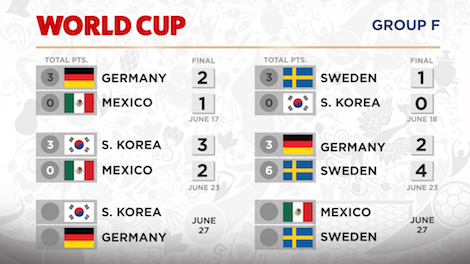 In readiness for this year's tournament which kicks off today, Screenfeed has added two limited-time products to its standing library of 100+ digital content offerings – both feature multiple language options, enabling network operators everywhere to connect with followers of what is the biggest single-sport event in the world.
The Match Results, which include group play, and bracket play graphics, will be available in six languages: English, Spanish, Portuguese, French, German, and Arabic. The
World Cup News will be offered in three: English, Spanish, and Arabic. Both products also feature fun layouts, and bold color palettes designed to catch the eye in any environment, be it an airport, a mall, transit station, healthcare waiting room, reception lobby, or corporate communications system.
Group play graphics will be available for immediate playlist scheduling, so that network operators can start building audience awareness, and buy-in leading up to kick-off. Bracket play graphics recapping match outcomes, and point totals will follow once the games begin on June 12, and will update automatically after every game from Round of 16, through the final match, on July 15th, thanks to Screenfeed's plug-n-play technology, compatible with any digital signage software.
News coverage, beginning on June 1, 2018 will feature photos of the tournament's unsung heros, rising underdogs, and biggest stars; physics-defying on-field action shots; and stories from beyond the stadium walls. It, too, will update automatically, so subscribers can sit back, and relax, confident in the knowledge that their viewers are staying both entertained, and engaged with company messaging.
It's easy to get started. Everyone can get in on the fun, and games, starting at a flat rate of just USD 3 for the Match Results. They, and the World Cup News, are available for immediate delivery through Screenfeed's online store here. New customers need only create an account, enter their billing information, and configure a feed to schedule in their chosen software. Existing customers need only sign in, and add the subscription to their account.
Screenfeed is the leading content production, and syndication company serving the digital signage industry today. We craft fresh, quality content, and offer it to our customers on a monthly subscription basis, at affordable rates regardless of network size. With a library of text, graphic, and video content across numerous categories including news, weather, health, trivia, lifestyle, infotainment, social, and local, we offer value for any network, anywhere.