Adrian J Cotterill, Editor-in-Chief
Migrating birds do not just point themselves in the right direction and hope for the best. Each species has its own traditional route. Reggie's cousin, who you can see below, is a beautiful blue, yellow and green colour (rather than the usual blue), took an unorthodox trip to Israel a few weeks ago.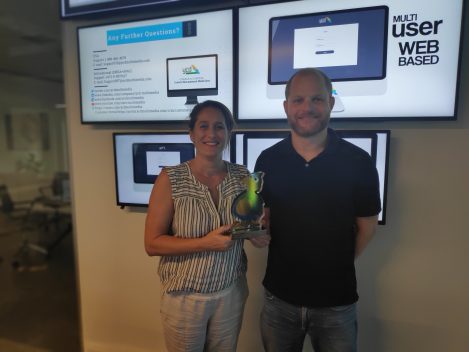 Stowing away on a British Airways Newark bound 777 he first arrived in New Jersey where he partook of some sunshine in Asbury Park. After a few days by the sea he made his way to Manhattan and on the wettest day of New York Digital Signage Week (Wednesday Oct 16, 2019) he was officially presented to YCD Multimedia CEO Sam Losar at the Microsoft Flagship Store on 5th Avenue, in recogition of their 20 years of innovation.
YCD Vice President Marketing, Revital Alcalay sensibly left him to his own devices and after two weeks of flying, he managed to make it to the Tel Aviv head office of YCD Multimedia. He's shown above with Revital and Dan Maayan, their VP of Operations.  I think he will enjoy his stay in Israel.