Gail Chiasson, North American Editor
"The growth of programmatic and the growth of Digital Out-of-Home have continued to be at the forefront of activities by the Digital Place-Based Advertising Association over the past 12 months," says Barry Frey, DPAA's gregarious president and CEO.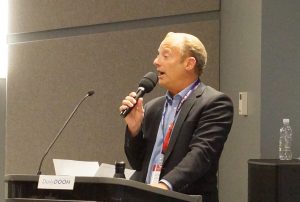 DPAA's efforts are paying off. "In fact, our most recent study, released in June, 2019, showed that 63% of media planners and strategists said they are aware that DOOH can be bought programmatically, a sharp increase from 39% in 2016," says Frey. "And 63% said they would be more likely to recommend DOOH media, given its availability in programmatic buying systems."
The same survey showed that 38% of media planners expect to raise DOOH spending over the next two years, up from 34% in DPAA's previous planner survey, conducted in 2016. Further, the percentage of respondents at director level and above who said they are recommending DOOH spending rose to 79%, up from 69% two years ago.
"There's real excitement around both DOOH and the growth of programmatic," says Frey, who is always on the run between DPAA's numerous activities and working with the small staff at DPAA's New York headquarters. "There are more screens being deployed worldwide, and we've been the leaders in both promoting this growth and promoting our members to employ programmatic. And our members are also employing more data, mobile data, and advanced video analytics and tracking systems as the industry advances."
In the past 12 months, the DPAA has added close to 40 new members across all sectors of the industry, bringing membership to somewhere between 120 and 140 –you can see those who have joined this year, with one click, Ed.
When we spoke, Frey was running on high, having just returned from a successful Canadian Video Everywhere Summit. He was about to release the DPAA's new study involving media planners, and was getting ready to leave for Cannes Lions Festival with a group of members. His business life is always as frenetic, although he did take time out in December, 2018, to be a proud Dad for the wedding festivities held in New Orleans for one of his two daughters.
"Our second Canadian Video Everywhere Summit held in Toronto in May was a great success, with about 420 registrations compared to last year's just over 300," he says. "And the timing was great because the city was celebrating the success of the NBA Raptors, and we had Kate Beirness, TV Host of TSN's Sports Centre as one of our speakers. And we had a lot of thought leaders and decision makers as speakers, such as Stuart Garvie, CEO of GroupM Canada, as well as the opportunity for great networking opportunities. I think we have about 15 different meetings a year – maybe more – including out big DPAA Video Everywhere Summit in New York, the Canadian Video Everywhere Summit, Quarterly Meetings, various Board and committee meetings, plus member tours at CES and Cannes. And we have a growing membership internationally, so we have a meeting in London."
Not only these, but there are plans for future meetings in Los Angeles and Chicago, and a possible event is still on the books for India.
The major DPAA Video Everywhere Summit in New York keeps outgrowing its facilities and this year moved to the Sheraton Times Square Hotel to satisfy the delegates and accommodate an attendance expected to range close to 1,000. It takes place during New York Digital Signage Week when the DPAA Summit attendees can also partake of the many other conferences, events and activities.
Since last autumn, Quarterly Meetings have so far been held at such venues as the headquarters of AdAge, at Wavemaker in 3 World Trade Center, and at the Bagatelle restaurant in New York's meatpacking district.
"These Quarterly Meetings, that attract about 100 or more attendees, are great because we bring in newsmakers, give updates on what's going on the industry, and offer more great networking opportunities," says Frey. "For example, at our First Quarterly Meeting, Brian Braiker, editor of Ad Age, spoke about today's trends in advertising and media. Then, at our meeting at Wavemeker, Jonathan Adams, that company's executive director, talked with us about the effects of technology on various media categories and consumer behaviour, and especially what a 5G world will look like. That type of information helps those attending to build their knowledge and to gather tools that they can use: sales strategies; data information; industry trends; best practices; digital and programmatic innovations; and more."
Since last September, four new members have joined the DPAA Board of Directors, which is chaired by François de Gaspé Beaubien, chairman and CEO of Zoom Media and executive chairman of Hivestack. They include: Cameron Milne, vice-president general manager, Place- Based Media, Pattison Outdoor, Toronto; Debbie Drutz, vice-president sales, Astral, a division of Bell Media Inc., Toronto; Jonathan Gudai, CEO, Adomni, Las Vegas; and Michael Provenzano, CEO and co-founder, Vistar Media, New York.
Under the Board's total of 16 members, there are a number of standing committees dealing with: Research and Standards; Mobile Integration; Media Operations; Entertainment; and Programmatic. In addition, there are what are called Select Committees. These latter are formed to carry out functions not covered by the standing committees and exist only as long as it takes for them to complete their work and report back to the members with a document or guideline or perhaps an educational series that helps agencies and networks.
Frey led approximately 25 members on private tours, as well as to events and an industry dinner at CES this year. Meetings were held with major CMOs, agency presidents and thought leaders, where DPAA again demonstrated the leadership and innovation of OOH to the advertising and marketing world.
At the Cannes Lions Advertising Festival, DPAA curated, as usual, an experience for its senior members that includes panels and fireside chats with senior brand and agency executives. This year, among those special speakers meeting with the DPAA members attending were: Patrick Stal, head of EMEA Marketing for Uber; Louis Wong, COO for Carat USA; Brian Wieser, president, Business Intelligence, at GroupM; and several others.
Approximately 40 industry executives attended various sessions, many of which were held at the Carlton Hotel. DPAA members started this year's Cannes experience with a networking dinner at Fred l'Ecailler.
In addition to all these activities and meetings, the DPAA annually carries out a number of studies. This year, these included the Media Decision Makers Study and Programmatic Buy Side Study, from which the figures mentioned at the beginning of this article were drawn. These studies are available only to DPAA members.
"Since autumn, 2018, we've had tremendous research, market analysis and reports," says Frey. "We've surveyed the whole demand side of the industry and have formed three committees around programmatic research. Our newest study is really an omnibus , touching on media planning, trading desks, DSPs, brands, and more. DOOH is consistently among the fastest-growing media sectors, and this survey provides us with great insights and direction on how to ensure that this growth not only continues, but accelerates, in the coming years."
A total of 219 agency planners and strategists employed at full-service and media services agencies across the U.S. participated in the online survey that was conducted in November, 2018. The study, conducted for the DPAA by JAM Research LLC., showed that 52% of media planners said they have recommended media plans that used DOOH and mobile together, up from 44% in 2016. And 77% of planners said that DOOH is entering the planning process in the early stages, up considerably from the 68% who reported DOOH as an early stage consideration in the previous year.
"Of course, as an industry we always have certain issues and challenges," says Frey. "In addition to driving programmatic, there's the issue of raising CPMs. This can be done by showcasing the value of the media. It's a matter of demonstrating results, of showing how targeting can raise brand awareness, show sales lift and more. We also have the challenge of competing in a multichannel media world; the challenge of generating our share of voice and of revenue in a vibrant media landscape. So I foresee the DPAA's future as one of continuing to grow, to help our members grow and succeed, and to give them the tools to grow their revenue."