Messe Düsseldorf has expanded its already impressive digital-signage network by installing 35 digital door and room signs at its head office.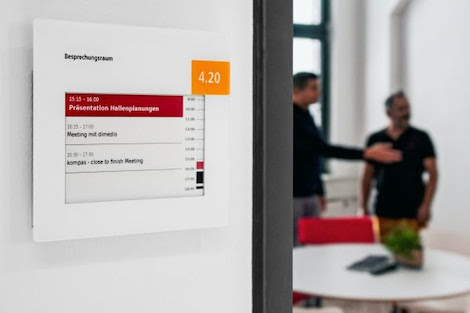 These will replace and supplement analog notices for offices, meeting rooms, rooms reserved for industry associations, and journalists' offices. The digital-signage software solution kompas from dimedis controls and networks the door signage screens.
Heike Schlott, organization consultant at Messe Düsseldorf said "We decided to use kompas digital signage because the software integrates perfectly with our existing booking workflow. The appointments booked via Outlook are now concisely displayed at each room – there was no need to familiarize ourselves with complicated software."
Twenty 7.5-inch e-paper displays as well as fifteen 10-inch LCD displays are being employed.
Thomas Malms, dimedis' head of product development and integration for kompas, told us "Messe Düsseldorf already uses kompas to upload digital content from kompas onto columns and screens throughout the exhibition grounds and to control the network. The trade fair is now taking the next logical step in the digital transformation and is using the new kompas module Door Signage with a connection to Exchange in order to equip the meeting rooms with digital signs. The system is freely expandable. Theoretically, it is possible to integrate thousands of rooms into the one system. The kompas e-paper displays are prepared for installation on glass and concrete ex-works and can also be mounted on metal surfaces using magnets. The radio communication for the e-paper displays does not interfere with WLAN networks, making the changeover from analog to digital door signs child's play. And at the same time, kompas integrates all common calendar tools. The system requires hardly any maintenance and still functions at locations without WLAN and electricity."
kompas integrates all common calendar tools in order to display the room allocation dynamically on the screens – the 10-inch colour display units are powered via a Power over Ethernet cable, and the e-paper units have a battery with a service life of up to five years.