Gail Chiasson, North American Editor
The Vancouver Convention Centre, an architecturally stunning harbor front facility in British Columbia, recently reopened following an extensive expansion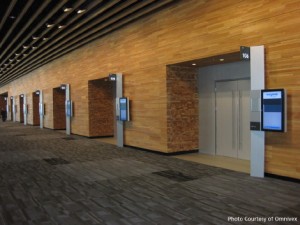 project that more than tripled its space.
The Centre originally opened in July, 1987, after serving as the Canada Pavilion at the World's Fair in 1986. The recently reconstructed facility has almost tripled its space, boasting almost 500,000 square feet of meeting, exhibition and ballroom space – and 170 digital screens managed by Omnivex software.
As part of the expansion project, the Vancouver Convention Centre wanted to help improve the guest experience by providing exceptional visual communications to guide them through the large facility.
"The digital signage system will help us communicate with the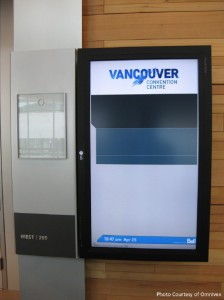 thousands of visitors who attend events hosted at the Convention Centre each year," said Gregory Davey, associate director of Olympics, IP and broadcast services, GM convention centre services, Bell Canada, who manages the digital signage network for the Vancouver Convention Centre. "Omnivex software was selected for its ability to easily manage a very large network of screens and because it could interface with the existing event management system."
Information only needs to be updated in the event management system, and the Omnivex software automatically formats and displays that information on the appropriate screens throughout the facility.
The Convention Centre, constructed to LEED gold certification. maintains an extensive environmental program to ensure sustainability in everything done there. It also adheres to numerous green initiatives, including using seawater for heating and cooling, on-site water treatment, and a 'living roof' made of indigenous plants.
"The Omnivex software allows us to remotely turn on and off all of the display hardware associated with the digital signage network, prolonging the life of the equipment and reducing energy costs," says Davey."It also alerts us if there are any hardware failures on the network, increasing up time."
With 52 meeting rooms and a 55,000 square foot ballroom, the
Convention Centre has the ability to hold multiple events simultaneously. To help guide guests and clearly show what is taking place in each room, screens were installed outside each room and in hallways between the east and west buildings. The entire system can be managed from one central location.
"Omnivex software is well suited to these types of large installations, because it automates the process of maintaining accurate and up-to-date information on all of the displays throughout the facility, thus reducing operating costs," says Jeff Collard, president of Omnivex. "The system will also scale easily, to accommodate the centre's growing needs and plans. It also has the ability to be used as a security and emergency notification tool, by tying into the Convention Centre's existing systems."