Adrian J Cotterill, Editor-in-Chief
Today, Gü, the award-winning premium dessert brand, is kicking off a tongue-in-cheek, socially driven OOH campaign for Valentine's Day. Love Notes invites dessert lovers to submit romantic tweets inspired by the lyrics of iconic love songs, all with a delicious Gü twist. The three-day special will see best-in-class tweets published on the UK's largest indoor screen situated at London's busiest rail station – Motion@Waterloo.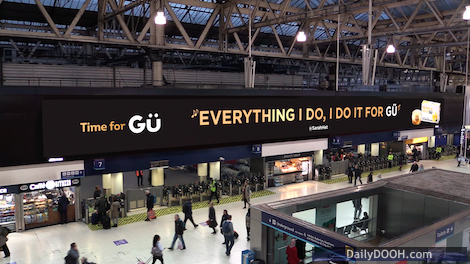 Amy Heap, marketing controller, Gü, said "We wanted a truly interactive campaign designed to create memorable moments while having fun with the brand. We also wanted to ramp up our social media activity using DOOH as the anchor for engaging social audiences. Gü's Love Notes is a step-change for us – a campaign that is driven by Gü fans and highlights Gü as the perfect dessert or gift this Valentine's Day."
Produced by Grand Visual, this light-hearted interactive drive leverages traction from the wider Gü campaign which asks Twitter users to tweet their favourite lyrics, replacing the word 'you' with 'Gü'. The best tweets such as "Everything I do, I do it for Gü", and "I'm in love with the shape of Gü" will be shown on the big screen at Waterloo Station. Participants are further rewarded with their very own personalised video which is shared via social media and features their public declaration of love playing on the big screen.
Ric Albert, Creative Director at Grand Visual, told us "Digital OOH is becoming an intrinsic part of the media plan and an important conduit for driving content to other channels. Love Notes is a great example of how DOOH executions can become the currency for social outreach – helping to tell a brand's story across the wider media sphere and rewarding participants with their moment of fame in a personalised video clip. It's about extending the life of the campaign beyond the Motion@Waterloo location."
The socially driven DOOH campaign is delivered via OpenLoop, the Dynamic Creative Optimisation platform from Talon. Media was planned and booked by JAA and Talon and supports a broader focus on social and digital channels for the desserts brand going forward.
The interactive OOH special is part of a broader outdoor and digital campaign and supports a limited-edition Valentine's Day packaging refresh across the Gü cheesecake range and features tweaked lyrics from some of the most iconic love songs, such as "I can't help falling in love with Gü" for Zillionaire cheesecakes.
Gü's Love Note campaign will be the first of a number of initiatives as part of the brand's new, wider 'Time for Gü' platform which champions real life indulgent dessert occasions, from date night to Friday night.