Gail Chiasson, North American Editor
Doc Popcorn, creator and distributor of fresh all-natural popcorn in Boulder, Colorado, has launched its mobile 'Pop' 'In' card program with Boulder-based Mocapay, a leader in mobile gift, loyalty, and marketing
Doc Popcorn currently operates in locations such as malls, sports arenas, and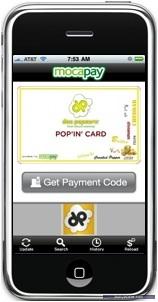 concert venues. The program will start with Doc Popcorn's Cherry Creek Mall location in Denver.
Doc Popcorn currently has operations in seven locations in Colorado, including Flatirons and Cherry Creek Mall, the Pepsi Center and Mile High Stadium, and Red Rocks Amphitheatre.

The partnership between Mocapay and Doc Popcorn is expected to contribute to Doc Popcorn's efforts to grow its all-natural popcorn concept and brand as it continues to expand its operations within and outside Colorado.

"As we broaden our footprint, partnering with Mocapay felt like a natural next step," says Rob Israel, co-owner and co-founder of Doc Popcorn. "The mobile 'Pop' 'In' program opens up a whole new customer acquisition and retention channel, as well as an interactive marketing and communication vehicle with our most loyal customers."
Doc Popcorn mobile 'Pop' 'In' account holders can able to transact at the point-of-sale, access their account balance and transaction history, find the nearest Doc Popcorn location accepting mobile gift, and reload their 'Pop' 'In' account, all from their mobile phone.
Doc Popcorn mobile account holders can also take advantage of Mocapay's recently launched Gift-A-Friend application, which is believed to be the first of its kind in the payments industry. Gift-A-Friend enables consumers to send mobile 'Pop' 'In' cards to their friends and family directly to their mobile phone from the Mocapay Website.
Mocapay provides a mobile commerce platform that supports integrated mobile payments, marketing and distribution at point-of-sale. The company delivers direct marketing opportunities and customer loyalty to merchants while providing consumers with the ability to transact simply and securely with their mobile device and receive real-time promotions from their favorite retailers.