Guest Contributor, Christian Zavecz
In this very challenging time, I have been reminded of the positive that can emerge from the most negative of situations.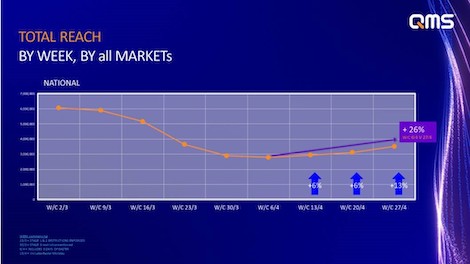 In direct conversations with agencies and advertisers we can see that they are united in their desire to be active again – to have commercial messages out there and to ensure consumers know that brands are ready and wanting to tell their stories, whatever they may be.
But in ensuring that their hard-earned budgets are optimally invested, they need to know the audience facts. In other words, they are asking us to help them, help their clients and businesses by giving them data that will accurately show what audiences are doing. For Out-of-Home this is totally understandable – a sector based largely on the mobile nature of our society and having that mobility constrained through social distancing and isolation, means that previous norms no longer apply.
There is a double whammy here trying to decipher what the OOH story might be during COVID-19. The assumption that numbers are down is fair enough, but thinking that this translates to a complete cut in traffic and therefore the destruction of reach is inaccurate. However, without the audience numbers that relate to this COVID-19 time, agencies and clients would be justified in drawing their own potentially inaccurate conclusions.
QMS, COVID-19 or not, is the leading premium digital OOH business in this market. We made the business decision three years ago to augment our Datalab with an ongoing dataset that would provide real time OOH audience numbers across every hour of every day, giving us an unprecedented understanding of audience shifts.
DYNAMiQ, our measurement platform launched in January this year after three years of development, combines the expertise of mobility data and intelligence solution provider DSpark and audience modelling specialists WEJUGO. The result is an audience measurement platform that is robust to the highest global level, representing one of the biggest per capita sample sizes of any medium in any country. This comparative statement matters because it highlights the robustness and accuracy of the data.
DYNAMiQ very purposely moved away from the concept of averaged audiences and long time frames of data collection, because this smooths out the very peaks and troughs we want our agencies and clients to be aware of. We can't deliver total transparency without providing the real data which, for the first time, shows real audience behaviour in OOH. Therefore, we confidently state it reflects real people numbers and movements and, for better or worse, that includes right now.
The facts of COVID-19 are that it did have a major effect on our OOH audiences. At their lowest ebb (w.c. April 6, 2020) weekly total average reach had dropped by 54% and total contacts by 67%. But that was three weeks ago, and the positivity in data since then has pointed to OOH audiences being on the way back – even before restrictions have been officially relaxed. Latest data up until the May 3,2020, has shown an increase in reach of 26% and contacts by 18% since we reached the floor position (w.c. April 6, 2020).
This immediately leads us to several insights given the accuracy of the data. Such as the need for humans to be mobile and experience their freedom, irrespective of the threat of a fine or embarrassment for defying the rules. Or that the extension of this thinking is OOH audiences will be evident in larger numbers faster in the unwinding of restrictions than was true of their decline in the lockdown. More of these insights will be rolled out over the coming weeks to give you some forward projections on OOH audience.
Not all types of sites have been affected equally though. The way people move has changed and using the flexibility of digital OOH, advertisers can now optimise campaigns accordingly. The CBD has been the worst hit with an average drop in total contacts of 71%, year on year for the month of April. Suburban (-41%) and Regional (-34%) sites are back but demonstrate how the way we are now moving has changed. Predictable but now thoroughly validated.
There are also unique variances by market as a multitude of factors contribute to the unique data stories we are seeing. Some states such as WA (-39%) & QLD (-45%) have not been hit as hard as VIC (-58%). So, understanding how each state's enforcement of restrictions and its effect on OOH audiences allows us to accurately forecast how they will bounce back through the recovery period.
Some of the things we are interested to observe include reach being less effected than total contacts, which intuitively is correct as we know that people are not moving with the same regularity, but importantly they are still moving. OOH is still a mass medium in these times and understanding these audience shifts has allowed us to adjust pricing accordingly and ensure that our client's cost efficiencies are not compromised.
We also anticipate that as we emerge from our isolation and feel able to be out and about again enjoying our mobile lives, this will be matched by renewed attention to OOH messages. One of those things that we did not know we missed until we could no longer access it as we were used to. So, the new creative advertisers are currently thinking about is going to be exposed to a very receptive audience. Bring it on.
We at QMS are very satisfied to state, with the data to back us up, that DOOH media is now totally accountable. We have considered the opportunities we can deliver for our clients in category share of spend and are keen to be able to share the shape of this with you and our ability to report on it. Between this share opportunity, dynamic creative context and the ability to capitalise on this growing mass audience, there is much to think about and plan.
The granularity of the data we can share with you is world class. What QMS wants to do is answer the needs of our agencies and clients and indeed the industry, by showing you what the real numbers and behaviours are, and therefore how to make this work best for you. Risk and uncertainty are removed. Mass and growing audiences are back on track, and uniquely, share of category opportunities are possible.
I will let the DYNAMiQ data speak for itself.
Christian Zavecz is QMS Media's Chief Strategy Officer.