Adrian J Cotterill, Editor-in-Chief
One exhibition in Europe that the organisers are determined will go ahead, is Sx Tech 2020 which will take place November 20, 2020 (was originally scheduled for September 14) in the Berlin Warehouse.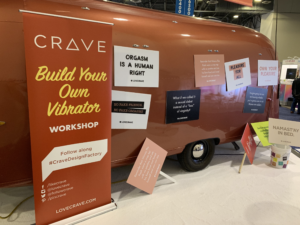 Sx Tech 2020 is the only conference in Europe solely dedicated to the fast-emerging industry of sex tech and fem tech.
Sx Tech CEO & Founder Ola Miedzynska told us "After the huge success of our inaugural event in 2019, we are thrilled to do it all over again with more speakers, more innovative sex- and fem tech startups and investors. Despite the challenges brought by the pandemic and economic unrest, we are offering a unique opportunity for startups, companies, manufacturers to exhibit their products and start on b2b collaborations within a 1000 square meters expo area".
Visitors will enjoy hearing from 100+ speakers including Anna Richards, Luka Matutinović, Soumyadip Rakshit, Nenna Joiner and Genevieve LeJeune.
You can also expect: –
30 Sex tech and Fem tech startups
25+ exhibitors
10 workshops for industry professionals
800 participants
1000 m² space for acquiring b2b deals
Exclusive dinner for investors on the night before the event