The Bendac Group have announced their appointment as the Official Technical AV & Digital Display Supplier of Bath Rugby.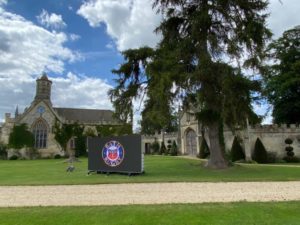 During the #COVID19 lockdown and enforced break from the Gallagher Premiership, the Bath Rugby Club coaching department needed help with the challenges of on-pitch training and turned to the Bendac Group for advice on what AV and display technology could help them.
Part of Bendac's solution was the supply and installation of Bendac Dura LED panels to create a 4m x 2m outdoor screen on the Clubs' training pitches at Farleigh House. This has allowed the club to run video analysis and pitch-side formation reviews, which can be shared and discussed by the coaching team and players, in real time. It also allows the ability to hold team meetings, outside, in large groups, thus avoiding restrictions on players attending meetings indoors.
Bath Rugby's Head Performance Analyst, Dan Cooper gave his insight into the teams' use of the screen and how it has benefited his team of analysts and told us "The screen has been a useful addition to our match preparation by enabling us to learn in the moment and continue to conduct our analysis in a safe, socially distanced environment. We can provide information directly to the players during the training session, whether that be through scheduled breaks or immediate feedback during different training scenarios. The pure size of the screen means that we no longer have to leave the pitch environment to take in video feedback. This has been a great benefit to us, as it keeps the flow and momentum of a session intact."
The positive impact for Bath Rugby coaches, has resulted in Director of Rugby,
Stuart Hooper
, being able to use Bendac display technology, to communicate key training ground messages far better than through previous traditional methods. He said
"First and foremost, with the challenges of COVID, having an outdoor screen like this allows us to hold socially distanced team meetings and not disrupt our standard procedures too much. We're still able to clearly communicate to the group the key points that we want to address during training. Going forward, we'll continue to use the screen to support preview and review meetings, presentations to the squad, instant video analysis of set plays and tactics, and to help create mock in-game situations that support our scenario planning for those end of game pressure moments with a real time match clock and score on screen."
The Bendac Dura series is a high-bright outdoor product, perfect for running rich, fast-paced content like that of rugby match-footage. It's the go-to product range for all large-format outdoor installations and can withstand all weather conditions.