Midwich Group Plc (LON: MIDW), a global specialist audio visual distributor to the trade market, has announced a new Hardware as a Service programme, designed specifically so that new and existing channel partners can offer the latest Unified Communciations technology to their customers, without the requirement for substantial upfront outlay.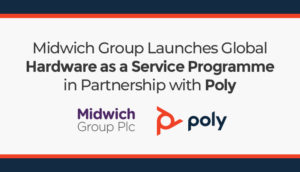 Stephen Fenby, Group Managing Director, Midwich Group Plc, commented "The global pandemic has resulted in unprecedented financial constraints and a need to optimise communication is key for every organisation, through work-from-home, office or classroom UC solutions. The launch of the new Hardware as a Service programme along with this exciting new global partnership with Poly, leaves us well positioned to offer the leading UC technology to our channel partners and their customers, without the substantial upfront costs."
This new offering coincides with the announcement of a worldwide distribution partnership with Plantronics, Inc. and is initially designed to meet the demand for the Zoom Video Communications, Inc. platform.
Nick Tidd, Vice President – Global Partner Organization, Poly, said "Customers are facing the unprecedented challenge of navigating a world where the work 'place' is less important. The partnership we have with Zoom, coupled with this impressive Hardware-as-a-Service model, enables our customers to not only connect from any location, but maintain productivity effectively."