This Thursday October 15, 2020, thanks to our sponsor Vistar Media, JCDecaux's Head of Trading and Sales Operations Cassandra Cameron, Shopper Media's Head of Programmatic Laura Wall and Vistar Media's Sales Director ANZ Ben Baker will join us on a unique webinar entitled 'AdTECH: OOH – Sydney, An Extra Slice'.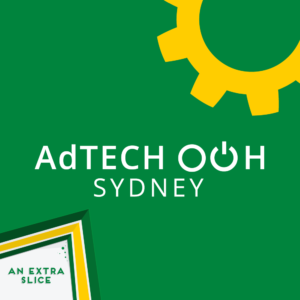 This will be a live, one hour long show that will discuss late September's AdTECH: OOH – Sydney Conference .
The organisers of the event, the Ministry of New Media are well aware that many of our industry friends in Australia and New Zealand were unable to attend the conference due to pandemic lockdowns in many parts of Australia and of course, a ban on travelling to Australia itself, which would have affected dozens of people from New Zealand, APAC, Europe and North America who last year attended.
Panelists will give their own thoughts on the conference, discuss key topics raised during the day and take questions from the online webinar audience.
The webinar is scheduled for this Thursday October 15, 2020 at 08:00 SGT Singapore / 11:00 AEDT Sydney / 13:00 NZDT Wellington time.
Registration is available here.