Adrian J Cotterill, Editor-in-Chief
Vistar Media has announced a partnership with Arrivalist, a leading geo-location intelligence provider for travel-based measurement.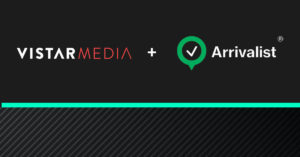 Lucy Markowitz, VP of National Sales at Vistar Media told us "Programmatic OOH allows travel marketers to reach consumers with relevant messaging and beautiful creative, but the impact of every media dollar matters now more than ever. With Arrivalist, we can help marketers understand how DOOH ads contribute to visitation results and gain valuable consumer insights for future campaigns. "
Vistar's DOOH solutions, coupled with Arrivalist's measurement capabilities for the travel sector, now provide marketers with a detailed view of the entire consumer travel journey — including to, within and back from a travel or tourism destination — enabling them to measure the performance and ROI of their programmatic DOOH campaigns.
Travel marketers can use Vistar's programmatic technology to engage and stay connected with potential visitors across the wide variety of real-world venues such as billboards and urban panels, in gas stations and convenience stores, among taxi-tops and rideshares, via airports and bus shelters, and more. With this new partnership, marketers can then measure the impact of that engagement on consumer travel behavior, using Arrivalist's aggregated, privacy-compliant movement data to analyze the visitation patterns of people exposed to OOH campaigns.
Measurable insights via Vistar's programmatic DOOH campaigns now available include: Arrival Rate (campaign efficiency), Arrival Lift (incremental visitation), Stay Lift (incremental duration), Days to Arrival (time between exposure and arrival), Origin Markets (location of media exposure), Distance to Arrival (travel time to visit), and Dwell Time (duration of visit).
Cree Lawson, Founder and CEO of Arrivalist said "Vistar Media is a pioneer in the DOOH market and their offering creates exciting new opportunities for advertisers. We're excited to work with Vistar to provide meaningful metrics and actionable insights to help guide brands' marketing efforts and increase visitation to their locations."
Utah Office of Tourism, and its agency Love Communications, is currently leveraging Vistar's programmatic technology and Arrivalist's measurement capabilities to drive skiers and snowboarders to visit the state this winter, with the campaign running via Vistar across DOOH screens at universities, sports entertainment venues, grocery stores, gas stations, on taxi and rideshare tops, and more.
The partnership between Vistar and Arrivalist allows Utah Office of Tourism to seamlessly extend its existing relationship with Arrivalist into DOOH initiatives — empowering holistic measurement across multiple media channels.
Megan Griffin, Media Director, Love Communications added "Our team at Love Communications have been advocates of utilizing programmatic out-of-home across several initiatives and it's exciting to have our client, Utah Office of Tourism, now be the first brand to combine Vistar's OOH media targeting abilities and Arrivalist measurement to further enhance what we're able to achieve and learn from our media efforts."
Arrivalist is the leading location intelligence platform in the Travel industry. The company uses mobile location datasets to provide actionable insights on consumer behavior, competitive share, media effectiveness, and market trends. Over 200 travel marketers, including 100 Cities, 40 US States, and 4 of the top 10 US Theme Parks, use these insights to inform media strategy, operations, and destination development. Arrivalist is headquartered in New York City, with offices in San Francisco and Toronto.