Adrian J Cotterill, Editor-in-Chief
Intersection, the leading smart cities media and technology company, this week announced that it has been awarded an exclusive seven-year contract with the Massachusetts Bay Transportation Authority (MBTA) to manage its bus shelters and street furniture fleet across the Boston metropolitan area.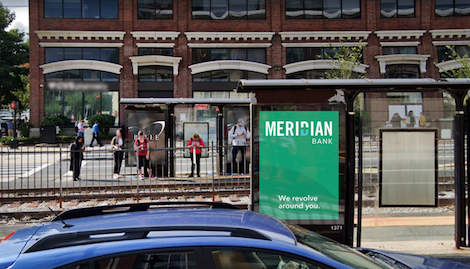 MBTA General Manager Steve Poftak said "This new partnership is good news for our bus riders. Through this contract, riders will see a number of improvements at and near bus stops, including the availability of real-time service information, interactive maps and trip planning through upcoming information kiosks, and upgraded maintenance of our bus shelters. We look forward to providing an enhanced customer experience that our bus riders expect and deserve with our new partners at Intersection."
As part of the partnership, Intersection will bring its suite of static and digital media products to nearly 400 bus shelters and 30 interactive information kiosks, driving revenue for the transit authority while also streamlining operations and improving the rider experience with useful information, including real-time transit info, weather, sports scores, news, and more. The contract began on February 1, 2021.
Ranked one of the best places to live in the U.S. for its universities, cultural institutions, food scene, and job growth opportunities across tech, media and healthcare, Boston presents an exciting opportunity for brands to reach sports enthusiasts, students, entrepreneurs and professionals as they travel throughout their day. With media available in key areas across the metro region, Intersection will help advertisers tap into Boston's bustling energy to reach a dynamic audience.
Scott Goldsmith, President of Cities & Transit at Intersection told us "With its walkability, world-renowned universities, avid sports culture, and thriving job market, Boston is one of the best cities in the country for advertisers to reach consumers in public spaces. Having already expanded its bus services this summer to meet rising ridership demand, our partnership with MBTA will help improve the rider experience while driving revenue that can be reinvested back into the transit system."
Through Intersection's communications platform, IxNConnect, MBTA will be able to manage all of their digital assets and monitor the delivery of critical information, such as service updates, transit campaigns and emergency messaging to screens systemwide. This includes the 30+ interactive information kiosks that Intersection will install to give pedestrians access to interactive maps and directions, a directory with points of interest, and real-time interactive trip planning.
MBTA joins a rapidly growing network of cities, transit agencies, airports and real estate developments leveraging Intersection's media assets to engage consumers and drive revenue that can be reinvested back into their operations. Intersection's media network extends across the top U.S. media markets, including New York, Los Angeles, Chicago, Philadelphia, San Francisco, Dallas, and Seattle, in addition to other major cities such as Austin, Charlotte, Houston, Minneapolis, Pittsburgh, Portland, OR and more. In all, Intersection's network reaches over 60 million people through more than 400,000 digital and static assets nationwide.