Russ Curry, Ministry of New Media
Green search engine Ecosia is launching its first major international brand campaign in cities across Europe, to let millions of potential new users know that they can turn their searches, no matter how weird, into trees.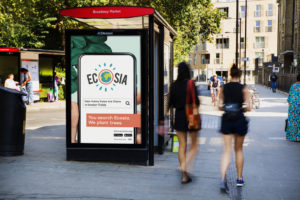 The user-generated campaign speaks directly to users in each city, by displaying searches they have shared via social media.
Each UK city also has a matching tree planting project to give back to the local community.
It has been developed together with JCDecaux, the world's leading out-of-home advertising company, and Sky Media that has advanced addressable capabilities, through AdSmart from Sky, in the UK.
The campaign is part of JCDecaux's Nurture Program, a programme within the company which partners up with start-ups and scale-ups across Europe to help them scale their brand through high-impact, high-trust out-of-home media. It features weird searches that are specific to the local areas in which they are displayed, capitalising on the contextual power of out-of-home advertising. The print campaign will be printed on 100% recycled paper and PE vinyl posters. The digital screens in European cities are powered by green electricity.
Joe Hills, Head of Nurture at JCDecaux UK told us "We are thrilled to have worked so closely with Ecosia and Sky TV on this 'Weird Search Requests' campaign, supporting it in multiple markets through our growing international start-up programme, Nurture. Not only are our businesses aligned from an environmental and sustainability perspective, but we all recognise the important role we play in tackling climate change. JCDecaux is well on its way to becoming a carbon neutral business, set to achieve this milestone by 2030. We are also proud to be the first Out-of-Home company to join Ad Net Zero, the UK advertising industry's initiative to help respond to the climate crisis. Collaborative campaigns with green partners such as this further underpin our sustainability commitment, something that we know is key to the future of our cities and an integral part in showing respect for people and the environment."
The concept stems from an award-winning brand video, created by students at Germany's Filmakademie Baden-Wuerttemberg, originally the students' own initiative for a class assignment. It shows Ecosia users making unusual searches on the app, which leads to a tree sprouting up wherever the search was made – ranging from a bus to a lecture hall – and ending with the words: "No matter how weird your search request, we'll plant the trees anyway." The film won a number of awards, including silver in the prestigious Young Director Award award at Cannes.
Ecosia's marketing team has obtained a 12-month license for the video and expanded on this concept together with JCDecaux to develop a comprehensive print and digital campaign, targeted towards several traffic types including bike and public transport. Digital and paper panels will display a search on the Ecosia app, localised to the neighbourhood they are displayed in.
Hannah Wickes, CMO at Ecosia, said "'Weird Search Requests' is our first major out-of-home and TV campaign and we couldn't be happier to be working with such engaged partners as JCDecaux and Sky Media. Both partners are committed to Net Zero, and have their own ambitious targets to tackle the climate crisis. Their support on this campaign means we can reach millions of new Ecosia users. Our audience is uniquely young and active and growing rapidly, with over a million users already in the UK alone, but we need our movement to grow even faster to keep pace with the climate emergency. With new users joining across Europe with this campaign, we will be able to plant millions more trees and expand our critical work of regenerating forests around the world."
Ecosia has developed a partnership with Sky Media, the advertising arm of Sky, that will bring the brand to TV for the first time. By using AdSmart, Ecosia's 'Weird Search Requests' campaign will reach targeted, eco-conscious groups across six UK cities. These locations include certain boroughs in London, such as Camden, Hackney, and Lambeth, as well as other UK cities Bristol, Manchester, Birmingham, Glasgow, and Edinburgh. These UK locations mirror, and in certain areas expand on, the out-of-home campaign locations from JCDecaux.
Katharine Dunlap, Head of Direct to Scale at Sky Media, commented "'We're thrilled Ecosia has chosen Sky Media to introduce its "Weird Search Requests" campaign to TV for the first time. The power of AdSmart is highlighted in this campaign as we target specific households throughout the UK who care about the environment as much as we do and, of course, Ecosia does! We're also excited to be working closely with JCDecaux where our research teams will measure the campaign's success and impact of a collaborative omni-channel media plan."
'Weird Search Requests' will roll out across more than 3,700 displays across 12 cities in Europe: Berlin, Hamburg and Cologne in Germany; Paris, Lyon, Bordeaux and Marseille in France; Amsterdam and Rotterdam in the Netherlands, and London, Manchester and Edinburgh in the UK. It will continue into May in Germany, France and the Netherlands.
Digital inventory will be a mix of 6sec static and 10sec motion, and in Germany will include a creative variant that uses dynamic, real-time content to display the tree counter from the Ecosia website, showing how many trees their users have planted around the world. The video creative will run in full-length 71sec and 30sec versions on Ecosia's paid video programme, and in the UK, the 30sec creative will also play through Sky Media's national AdSmart-enabled network.