The Westfield Mall of The Netherlands is the Netherlands' latest and largest retail destination with over 280 stores. It looks like an architects' dream, sinuous white curves flow horizontally like a huge silk shawl around the glass-skinned structure to create a unique shopping experience.
With well over half a billion Euros spent on the redevelopment, Westfield needed a safe pair hands for their visual display technology and not surprisingly they chose tried and trusted long term partner Esprit Digital (who were chosen from a competitive field).
Chris Lynham, URW Head of Media & Client Operations UK & Europe told us "Digital displays are now such an integral part of the shopping experience and it is critical to URW that our malls have industry-leading screen portfolios. We have worked with Esprit Digital across all our regions since the opening of Westfield Stratford ten years ago, and we are delighted with the outstanding products they have delivered in our flagship Mall of the Netherlands".
Right outside the main entrance the welcome LED is completely sympathetic to its environment. Working together with The Hague Municipality who were concerned about the light impact on nearby residents, the 5760 x 3200mm display uses the new ED LUMOS 6.67mm pitch tiles with reduced angle bulbs to concentrate the field of vision at full brightness.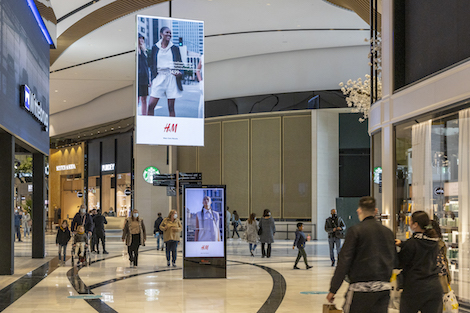 LED customers always want the biggest and widest viewing angle possible, whereas the challenge here was to build a solution with a restricted viewing angle that did not compromise the quality of the visual in any way.
Inside the mall the traditional rotating 'Spectacular' double-sided LED is clearly visible to the ends of the two of the main aisles. 5500m high x 3000mm wide with a 4.8mm pixel pitch the display has Ambilight side strips and a 360-degree continuous rotating mechanism.
To complete the digital screen network, there are 22 internal and external double- sided 75" Totems. Custom-designed specifically for URW European malls, these are really sleek units with curved edges, intelligent LED side lighting and have minimal depth for double-sided LCDs.