Adrian J Cotterill, Editor-in-Chief
London's Brixton Rail Station is at the heart of a powerful Out-of-Home campaign by The Nubian Jak Community Trust, Havas London and JCDecaux UK to promote The Black Plaque Project, an initiative to commemorate the contributions of black people throughout history.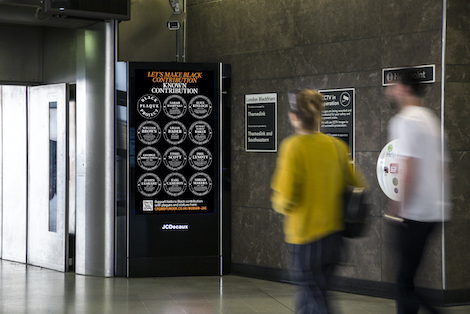 The campaign is running across mall and rail Out-of-Home locations nationwide, raising awareness of the project with the creative message 'Put black contribution up for all to see'.
In addition to the UK-wide Out-of-Home campaign, a high-impact takeover of media space at Brixton Rail Station (Atlantic Road/Brixton Station Road in London) pays tribute to the pianist Winifred Atwell as "the lady that sang with her fingers".  Winifred was the first black person to have a number one hit in the UK and is still the only female instrumentalist to achieve this.
In 2020, the Black Plaque project placed a plaque for her at 69 Chaucer Road, SE24 in South London.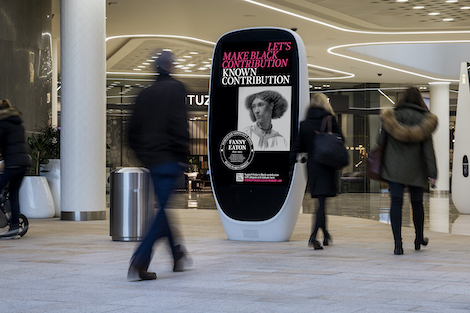 A further creative pays tribute to eleven important black figures from history: Sarah Baartman, Fanny Eaton,  George Bridgetower, Lilian Bader, Hubert 'Baron' Baker, Fela Kuti, Ethel Scott, Phil Lynott, Justin Fashanu, Earl Cameron and Miriam Makeba.
Jak Beula from Nubian Jak said, "The Black Plaque project is about putting black contribution up for all to see. As a medium that is part of the community, Out-of-Home is able to take our message to the public in a way that reaches them when they are out travelling or shopping, bringing these important figures from the black community into the everyday life of people across the nation. Brixton is at the heart of a multicultural community and by placing Winifred Atwell, an extraordinary black musician at the centre of this takeover of media space will inspire, inform and educate people of all backgrounds in this busy London station."
 
The Black Plaque project is a response to London's blue plaques that are displayed on buildings across London and that pay tribute to notable British figures of the past. Although 40% of the nation's capital are from a diverse background, until recently just 1.6% of the official blue plaques celebrate historic figures who were black. To address this imbalance, specially-designed black plaques are being installed on buildings across London to celebrate the lives of some of its most notable black residents.
All the creatives in the Out-of-Home campaign invite the public to support historic black contribution with plaques and statues via Crowdfunder here.