Australian OOH transit company Adflow this week announced the success of the first phase of its regional expansion program. Adflow's regional footprint has recently increased by 60%.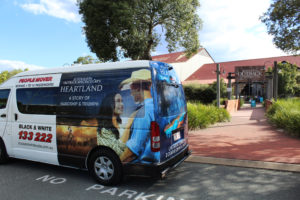 With 9.1 million people living regionally in Australia (growth of 1.1%* experienced in the 19/20 Financial year) and most regional centres suffering minimal restrictions from COVID, Regional Centres should obviously not be overlooked when planning OOH.
General Manager for Adflow Luke O'Connor told us "There is an enormous opportunity to speak to Australians in regional centres. Whether that's a public health message or brand message people are living there lives as usual in these areas. Despite over a third of Australian's living regionally only 10% of media budgets are spent regionally. There is an enormous opportunity for brands to dominate regional Australia with little competition and a large market. With this thinking in mind, we've grown our network in key areas experiencing population growth. Adflow's wrapped vehicles offer advertisers high reach and frequency campaigns that are unique and show-stopping in regional centres. Our vehicles operate in and around the entire city boundaries where there is generally little to no OOH coverage offering great exposure for clients".
Adflow now covers over 65 regional towns and centres across each state and territory adding to their already impressive coverage in seven major capital cities.
Phase two of the program will see the company reach a target of over 80 regional areas. Key regional locations include: Albury, Geelong, Ballarat, Coffs Harbour, Melton, Townsville, the Sunshine Coast, Emerald & Bunbury.
Adflow, now a part of Liberty Signs, has access to a network of 150 vehicle signage installers nationwide – making vehicle media a bold, unobstructed branding opportunity for advertisers in remote locations that have limited OOH options.
Regardless of COVID restrictions in some areas across the country, Adflow's transit assets have been an essential service and kept on the road to assist people with their changing daily needs. Adflow's taxi network partners have reported changes in trip itineraries to include home delivery, vaccine, health appointments and transport to and from shopping centres.