Adrian J Cotterill, Editor-in-Chief
KEVANI, Inc., fast becoming L.A.'s market leader in digital out-of-home media sales and development has just announced the debut of the 'Sunset Limelight' ad display on Sunset Boulevard following the signing of a 20-year media sales and development agreement.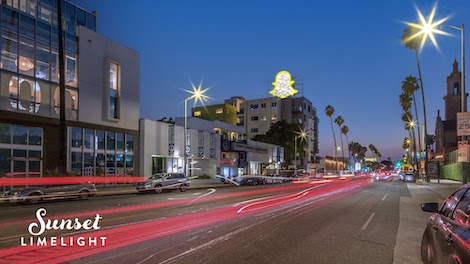 Kevin Bartanian, CEO and Founder of KEVANI told us "The Sunset Limelight pays homage to the neighborhood's past while providing a huge impact for advertisers and brands with an unmatched location that offers a clear line of sight. Our selection to handle Sunset Limelight reinforces KEVANI's presence as one of the largest premium outdoor advertising companies in Los Angeles, and represents our continued dedication to providing powerful, creative, and sustainable solutions that benefit our advertisers as well as the community."
The Sunset Limelight display was designed to complement the historic character of this stretch of Hollywood. A retro-style, open-panel roof sign — paired with its highly desirable location at 6630 Sunset Boulevard — produces an ad space that captures the attention of visitors and locals coming into Hollywood from the west, and into West Hollywood from the east.
The display was approved by the City of Los Angeles as part of the Hollywood Signage Supplemental Use District. This District was created to maintain the distinctive aesthetic of the area. All signage must fit with the historical character of the architecture while also reflecting the modern Hollywood image.
KEVANI's growing collection of premium advertising locations across L.A. also includes The Towers®, i10 Beacon®, 405 Pillar®, and 2nd & PCH.
It has been an eventful few weeks for KEVANI, last week they walked away with two of the most prestigious 'Reggies' at the DailyDOOH Gala Awards in New York.
Best Digital Place Based Media Campaign for their PERONI Domination at Long Beach and Best Digital Out of Home Campaign for their Ford Los Angeles Domination.