Russ Curry, Ministry of New Media
Verde Outdoor Media has acquired Renfroe Outdoor. Dave Wood, President and CEO of Verde Outdoor Media told us "This acquisition is the first by Verde Outdoor Media in the Southeast. We have a small presence in the Mid-Atlantic and Mid-West and are looking for opportunities to expand throughout the U.S.".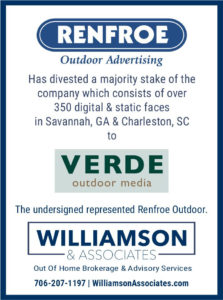 The company will remain branded as Renfroe Outdoor, a name that has been in the Outdoor Advertising Industry for almost 50 years. Renfroe Outdoor Managing Partner and Jed Renfroe will continue in a leadership role as President/CEO. This capital partnership will enable Renfroe to focus efforts on expansion via development and additional acquisitions.
Renfroe Outdoor CEO, Jed Renfroe said "The Renfroe Team is very excited about this investment by Verde Outdoor Media as we continue to grow our excellent Out of Home assets. We are joining forces with a group of people who value Integrity, Character and Excellence in all we do."
Williamson & Associates President & CEO, Marty Williamson said "We are extremely happy to have been able to assist in this transaction. I've known the Renfroe family, including their father Charlie, since I started in the business back in 1983. What they have accomplished over the years is impressive to say the least. We knew Renfroe and Verde would be a strong marriage and for Verde's entry into the Southeast, it's hard to think of a better company and operator than Renfroe Outdoor to partner with. It's going to be exciting to see what they do together in the coming years."