Lamar Advertising Company (Nasdaq: LAMR), one of the largest outdoor advertising companies in the world, last week launched a new Overhead Digital Network at Indianapolis International Airport (IND) as part of its planned, high-impact upgrade of digital displays. Lamar was awarded the advertising contract at IND on March 1st this year.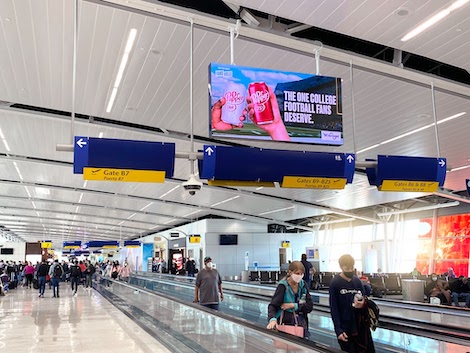 Brig Newman, Vice President & Senior Director of Airports for Lamar Advertising Company told us "Lamar's wide array of digital and static airport advertising products generate new revenue streams for airports while providing brands with the opportunity to reach and engage consumers and business travelers".
The set of four 9'x4′ double-sided LED displays line the moving walkways in two separate terminals, targeting both arriving and departing travelers as they move about the airport. These latest enhancements highlight Lamar's redesign and overhaul of IND's digital displays that include revamped 85″ Digital Baggage Claim displays and 85″ Digital Flight Information displays.
Omi Sahota, Director of Marketing for Media Resources Inc. said "The VISIONiQ TruView displays enable Lamar to offer advertisers greater access to the same physical space. Changing advertisements is now easy and can be done remotely with the OSSI content management system."
Founded in 1902, Lamar Advertising Company (Nasdaq: LAMR) is one of the largest outdoor advertising companies in the world, with over 351,000 displays across the United States and Canada. Lamar offers advertisers a variety of billboard, interstate logo, transit and airport advertising formats, helping both local businesses and national brands reach broad audiences every day. In addition to its more traditional out-of-home inventory, Lamar is proud to offer its customers the largest network of digital billboards in the United States with over 3,800 displays.