Adrian J Cotterill, Editor-in-Chief
Last week TouchTunes announced that Universal Music Group had tapped them to promote the re-Issue of Jump Back: The Best Of The Rolling Stones 1971-1993
TouchTunes will cross-promote Jump Back on its integrated network of digital jukebox screens and Barfly television screens – the promotion marks the first time TouchTunes will leverage Barfly with custom messaging to encourage plays on the jukebox.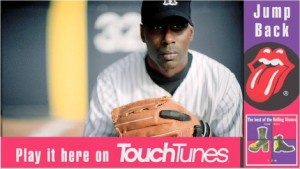 TouchTunes' on-screen promotion for the album release includes custom-designed banners and an on-screen billboard that will attract customers to the jukebox.
Custom ads will compliment the campaign by featuring animated banners on Barfly-enabled TV screens with custom messaging that encourages patrons to play the album.
TouchTunes will be tracking Rolling Stones' plays and capturing the influence of the Barfly call out.
Vicki Saunders, vice president, digital media and music marketing, TouchTunes told us "Only TouchTunes can run coordinated messages on both digital jukebox and Barfly screens to further engage patrons. This provides exciting new possibilities and positions TouchTunes as the ultimate interactive entertainment network. This is just one of the many things we have planned to create the best experience for our customers, at our 40,000 locations across the country."
About TouchTunes Corporation

TouchTunes Corporation is the largest out-of-home interactive entertainment network in North America. TouchTunes provides entertainment and marketing solutions to more than 40,000 bars, restaurants, and retailers. Since TouchTunes introduced the world's first digital downloading, pay-per-play jukebox in 1998, the network has become the largest of its kind in the nation, with a growing library of more than three million licensed music tracks. Customers play close to two million songs across the network, on average, every day. TouchTunes delivered more than 700 million songs in 2008 alone. TouchTunes' Barfly solution delivers a unique, on-location interactive television experience with a screen-within-a-screen for scheduled programming, custom advertising, bar promotions and social networking opportunities. TouchTunes' PlayPorTT wireless, portable tabletop system plays music and games, and adds to the bar or restaurant experience. PlayPorTT also delivers interactive promotional, advertising and marketing features. TouchTunes is a privately held U.S. corporation with offices in New York City, Arlington Heights, Illinois and Montreal, Canada.