Further to Gail's post '10 Vancouver Buses To Get Screens in Phase One' it's good to see that this rollout has now actually started.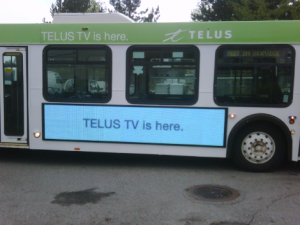 Litelogic Operations tell us that they have begun to fit digital signage systems across the Vancouver Transit System and will be ready in time for the 2010 Winter Olympics.
We also believe that Telus have signed off a campaign that is scheduled to last 4 months and that Lamar Advertising have secured a further 6 big brands who will be among the first to use this type of digital solution to target their audiences.
Byron Montgomery, Lamar Advertising told us "This LED transit advertising bus poster empowers our clients with 21st century technology! The future is now on the streets for client's investing in Vancouver transit advertising"
Adverts on the Vancouver Transit System will now of course be rotated and made location and time specific.