Adrian J Cotterill, Editor-in-Chief
At The DailyDOOH Investor Conference back in 2019 we invited the top Digital Signage vendors in North America to share the stage, sit on a panel entitled 'Why Build When You Can Buy, Why Buy When You Can Rent?' and pretty much discuss the entire state of the industry.
Alongside Burr Smith (Broadsign), Rick Mills (CRI), Sam Losar (YCD) in conversation with DSF Treasurer Paul Fleuranges we had Cineplex's Fab Stanghieri who will be keynoting Tuesday's AdTECH: OOH – Toronto Conference.
Fab is a longstanding Cineplex executive, he is the Executive Vice President and General Manager, Cineplex Digital Media (CDM), a division of Cineplex that is well known both in the digital signage sector and the digital out of home industry. There, he is responsible for defining and executing the strategic direction of CDM, and leading the company's focus on delivering its objectives to capitalize on the rapid growth of the digital-out-of-home industry. He has overseen the development of a number of innovative products and solutions to new and existing customers, and helped expand the business into international markets.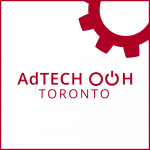 Ahead of Tuesday's AdTECH: OOH – Toronto Conference we sat down with Fab to discuss what he sees happening in DOOH today and what it is about CDM's approach that uniquely differentiates them from much of the competition.
We also managed to touch on their data-first approach, especially SmartEngine as well as discuss attribution and impressions and how CDM helps their clients measure success.
There are a handful of tickets left for the conference which can be found here.