Russ Curry, Ministry of New Media
DPAA, the global trade marketing association has announced that it intends to partner with Comscore, Inc. (Nasdaq: SCOR) and Talon to host the first-ever multi-network digital out of home Upfront with plans to showcase one seamless, unwired video network with seven premium DOOH media owners for independent agencies and brands.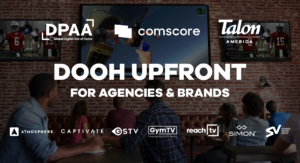 The event, which is open to brand marketers, independent agency professionals, and media buyers, will be streaming live on Tuesday, May 24 at 14:00 EDT.
Among the planned presenters are Barry Frey, President & CEO, DPAA; Gary Warech, EVP, Comscore; Jim Wilson, CEO, Talon America; Danielle Rind, VP, Digital Solutions, Talon America; Ben Jankowski, Former SVP, Global Media, Mastercard; Sean McCaffrey, President & CEO, GSTV; and Blake Sabatinelli, COO, AtmosphereTV.
DPAA, Talon, and the media owners – Atmosphere, Captivate, GSTV, Reach TV, ScreenVision Media, Simon, and Zoom Media – have formed a unified network, inviting brands, agencies, and media buyers to reimagine how they reach audiences through digital video. The DOOH Upfronts present new opportunities for advertisers to tap an aggregated, unwired video network with the reach of more than a billion monthly impressions via 350,000-plus total screens.
This event will showcase the network's efficiency and effectiveness for advertisers by providing streamlined media buying, audience-based targeting, pricing efficiency, and measurable business outcomes. The role of Comscore would be to evaluate the national unwired network of the combined seven media owners.
Barry Frey, President & CEO, DPAA told us "Full-motion DOOH is the new television. The larger-than-life medium is undeniable in its power to create and deliver a message that forms an emotional connection with the viewer. And this network exists to help marketers simplify the campaign planning and buying process and leverage data-driven insights to reach the right audiences to get the right outcomes via the most impactful screens out there".
"With advertiser investment in DOOH expected to increase substantially over the next several years, it is imperative advertisers have access to reliable, cross-channel measurement to successfully execute these campaigns," Gary Warech, EVP, Brand Direct, Comscore. "With our planned involvement in this initiative, our mission will be to help marketers achieve their goals with DOOH using our reliable impressions-based currency."
Also in attendance will be industry leaders from all seven media owners.