Yesterday the Ministry of New Media and the Australian Outdoor Media Association recorded the online 'AdTECH: OOH Sydney – An Avant Goût', ahead of next week's actual AdTECH: OOH – Sydney Conference (Wednesday August 17, 2022).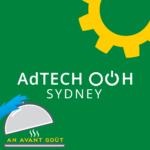 As you can see above, it features the OMA's CEO Charmaine Moldrich in conversation with Val Morgan Outdoor's Managing Director Paul Butler, oOh!media CEO Cathy O'Connor and OMA Chairman Charles Parry Okeden.
It's available to view free of charge online, along with the other videos in our AdTECH: OOH – Sydney 2022 playlist here.
Tickets for the in-person AdTECH: OOH – Sydney Conference (now in its fourth year) are selling incredibly well and are available here.