Adrian J Cotterill, Editor-in-Chief
Volta Inc. (NYSE: VLTA) announced this week that the Volta Media Network has exceeded one billion monthly impressions in the United States.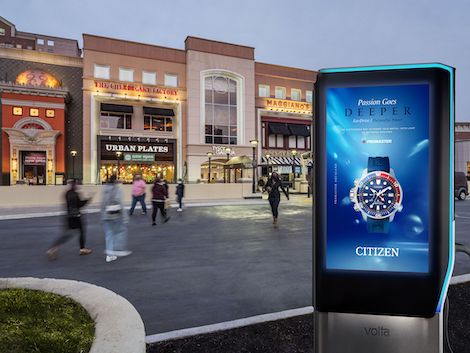 We are told that this milestone comes less than nine months after Volta formally launched its media network with 618 million monthly impressions. Volta's ability to nearly double its reach represents the company's commitment to expanding its dual EV charging and media network for the benefit of drivers, advertisers, commercial properties, shareholders, and ultimately the planet as it supports mainstream adoption of clean, carbon-free transportation.
Brandt Hastings, Chief Commercial Officer at Volta told us "The Volta Media Network creates tremendous value for our advertising partners and commercial properties, both in terms of business and sustainability impact," said "Our unique media model powers our business, and we continue to scale and push the boundaries of innovation for the benefit of our advertisers, real estate partners, drivers, and the environment."
Volta further distinguishes itself by offering advertisers a suite of measurement capabilities enabled by collaborations with industry-leading measurement companies. These relationships allow Volta to report on the same full-funnel impact marketers have come to expect from the most notable digital advertising platforms. This includes performance metrics like sales lift and incremental return on ad spend (ROAS)—a new frontier for the DOOH industry. Volta's ability to meaningfully drive bottom-of-the-funnel results was best demonstrated through two recent campaigns. Working with a leading shopper intelligence platform, Catalina, Volta revealed its ability to deliver an 8 percent sales lift for Dole's products and increase category share for the brand by 8.5 percent. In a separate campaign for Coca-Cola, Volta, and digital media and promotions technology company Quotient, measured $2.51 million in attributable sales and a ROAS 56 percent higher than average.
Michelle Leo, VP Marketing at Citizen Watch Group said "Volta's ability to speak to our audience while they are in the shopping mindset with unique, high-impact messages is highly valuable to our business. Working with Volta also aligns with our brand's sustainability commitments as we're directly supporting the transition to carbon-free electric transportation."
Volta's measurement capabilities are fortified by additional attribution capabilities that include footfall, web, mobile, and sales through collaborations with industry-leading organizations like Accretive Media, Foursquare, Reveal Mobile, Quorum, PlaceIQ, and more. Volta's impact on brand awareness and consideration metrics is measured by third-party research studies with esteemed firms like the F'inn Group.