Adrian J Cotterill, Editor-in-Chief
DPAA, the global trade marketing association, driving the growth and digitization of out-of-home media and its growing role in the omnichannel mix, announced this week initial speakers for its Global Summit, to be held on October 11 at Pier 60 (Chelsea Piers) during New York Digital Signage Week (October 10-14, 2022).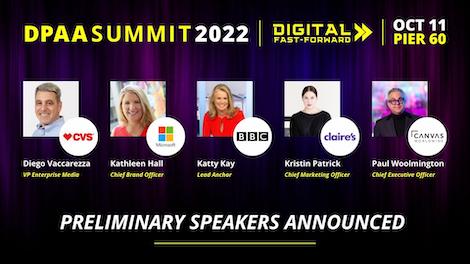 Speakers include:
Kathleen Hall, Chief Brand Officer, Microsoft
Kristin Patrick, Chief Marketing Officer, Claire's
Diego Vaccarezza, VP, Enterprise Media, CVS Healthcare
Katty Kay, Presenter-at-Large and US Special Correspondent, BBC Studios
Paul Woolmington, CEO, Canvas Worldwide
Barry Frey, President & CEO, DPAA said "As video and screen services continue to experience dynamic increased usage by brands and consumers and Out of Home in total is seeing dramatic growth, I look forward to this annual gathering for the advertising industry. With travel increasing and restrictions being lifted we look forward to welcoming all of our members from the Americas, Asia, Europe, Middle East and Africa to the DPAA Global Summit".
Additional speakers will be announced in the coming weeks, along with full agenda and surprise Broadway appearances.
The theme of this year's summit is Digital Fast Forward and sessions will address the role of retail media, programmatic, and the growing role of Out-of-Home in today's omnichannel mix, among other topics.
Registration can be found here.