Adrian J Cotterill, Editor-in-Chief
Any marketer who is responsible for outcomes is equally responsible for measurement; with the tech tax approaching 50% of media budgets, proving ROI is more important than ever.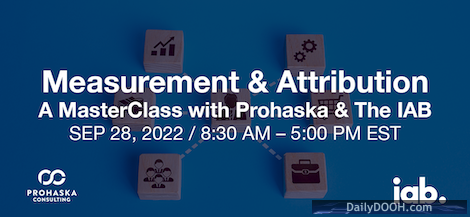 Yet, most organizations struggle with multiple models, multiple owners, and escalating costs. Prohaska Consulting believe that the key to success lies creating and curating the data needed to drive better investment decisions. Their goal is to teach clients how to build the data sets that will power decision making and drive better performance across all media channels.
With this end in mind, Prohaska Consulting has partnered with The IAB to present this full-day, in-person workshop designed to educate marketing professionals on future-forward measurement and attribution. Attendees will learn strategic approaches and methodologies for holistic and multichannel attribution, the nuances of applied measurement, and discuss hot topics with industry-leading providers and topical experts.
Where: The IAB Ad Lab 116 East 27th St., 8th floor New York, New York 10016
When: Sep 28, 2022 / 8:30 AM EST – 5:00 PM EST
Cost: $499 – IAB Member $599 – IAB Non-Member
Registration can be found here.