HYPERVSN SmartV Digital Avatar is a new solution which allows two-way interaction with a digitally rendered human avatar.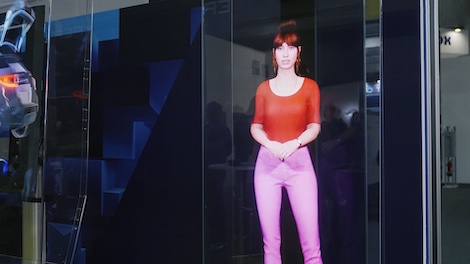 We are told that it is a solution that features a series of displays and a SmartV device, which is easy to install.
HYPERVSN Co-Founder Kiryl Chykeyuk told us "Giving a human face to your branded Chatbot or NLP platform encourages much greater customer engagement and an attractive 21st-century upgrade of your brand. You can expand the metaverse to physical space by having the person both in digital and on HYPERVSN. People want to talk and connect to people – our HYPERVSN Digital Avatar enables you to give them just that. "
It's based on the HYPERVSN Holographic Human solution which runs on pre-recorded content but Digital Avatar takes it a step further by allowing real-time conversations with customers, thanks to interactive AI capabilities and the scalable 'human touch'.