Leading digital outdoor media company QMS has recently rolled out exciting new 3DOOH (read this as 3d anamorphic) animated campaigns for Nike x JD Sports and betting and entertainment company Neds.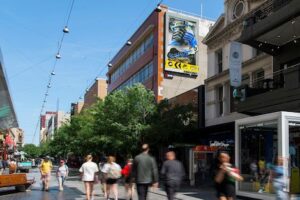 Both campaigns use animated 3D anamorphic illusion to bring the creative to life, with a giant shoe protruding out of the screen for Nike x JD Sports and a horse and jockey appearing to run out of the billboard for Neds. The new campaigns were launched during October and featured on QMS' iconic Rundle Mall location in the heart of Adelaide.
Perhaps not suprisingly this content type is now one of the most successful and sought-after DOOH creative techniques in Australia, with QMS in the unique position to provide end-to-end creative solutions for clients. In recent months, QMS has also launched 3DOOH campaigns for Gillette Australia, Michael Hill International, ANZ and AAMI, with campaigns booked well into Q1 next year.
QMS Chief Revenue Officer, Alex Kerley, said the appetite for 3DOOH campaigns was growing rapidly and QMS was excited to partner with clients like Nike x JD Sports and Neds to bring their animated campaigns to life.
"Thanks to the growth of DOOH and advances in screen technology, marketers and agencies are keen to use these digital capabilities to their full potential, meaning we can really push the boundaries of the impact OOH has become famous for," he said.
"Since launching our 3DOOH offering in March, we have seen demand continue to grow across a range of categories, with forward bookings well into 2023.
"This is just the beginning of what's possible with DOOH and with a network that is 94% digital, we are well positioned to offer brands greater creative cut through, impact and amplification across their campaigns," Mr Kerley said.
As the first-to-market in Australia with this offering, QMS is the only local company with a 3DOOH product that allows for multiple sites and multiple market executions. It is also delivered as a full-service creative offering for marketers and agencies, with QMS' in-house creative services team QUBE directly developing campaigns in collaboration with clients and their agencies.