Adrian J Cotterill, Editor-in-Chief
Hivestack has announced a partnership with CJ CGV, South Korea's largest media owner, renowned for its iconic outdoor screens, including the world famous K-POP LIVE venue, Seoul's busy Gangnam area as well as Korea's network of airports, baseball stadiums, hotels, movie theaters and shopping complexes.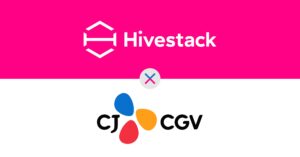 Hoon Lee, VP, Demand & Supply Korea at Hivestack told us "We are thrilled to be partnering with such an established company in the media landscape in supporting them to diversify new revenue streams through this integration into the Hivestack SSP. This partnership offers significant opportunities for brands, agencies and omnichannel DSP's both in Korea and globally to activate programmatic DOOH campaigns across the country."
CJ CGV also owns a large number of screens at Samsungdong, popularly known as the 'Korean Time Square'. Through this partnership, the CJ CGV inventory will be integrated into the Hivestack SSP and will now be available to programmatic buyers worldwide.
Myunghyung Lee, Director of Advertising Business Division, CJ CGV said "We are excited to announce the partnership with Hivestack as our first partner for programmatic DOOH. Leveraging the Hivestack platform will support our global growth and grow the recognition of CJ CGV allowing us to deliver more cross-border opportunities in the future."
In 2022, it is estimated that 838 billion South Korean won will be spent on DOOH advertising in South Korea and as the channel continues to grow driven by the rapid adoption of programmatic technology with its increased targeting and measurement capabilities, media owners and advertisers alike stand to gain new customers and drive overall business growth well into the future.