Adrian J Cotterill, Editor-in-Chief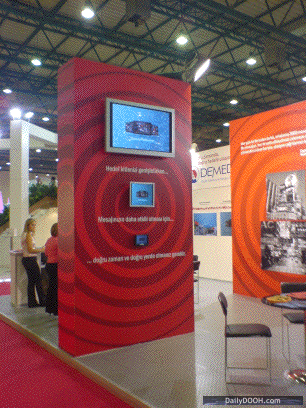 MarketingIST 2007 which is a Marketing Tools and Services Fair and Conference – the biggest marketing event in Turkey is to be held between 20th and 23rd September in the Tuyap Exhibition Center, Istanbul.
Serkan Dilver from DEMEDYA has seized the local initiative and is running a number of Digital Signage events in the Forum Space.
I will be presenting "The Secret of Success with Digital Signage and Screen Advertising Networks". I will be covering: –
Who is going to succeed, who is going to fail and what business models are working?
By discussing new and existing network deployments, the latest trends in content delivery, media sales and out of home, this session will give you what you need to know to make your network successful
DEMEDYA are one of the event sponsors and their aim is to create an awareness about digital signage / corporate information networks to the Marketing community at the event (they are also supplying all the screens and digital signage systems).
DEMEDYA are a rather new company but they do seem to have a firm technical background, as far as I can see they are the first and only company in Turkey that owns networks but that also deals with systems integration.
They own the Pharmacy channel in Turkey, which I have previously written about, and as well as installing and managing the network, they undertake all the media sales as well.
They also sell and rollout digital signage projects for banks, retail chains, car dealerships etc and have carried out a number of custom projects integrating digital signage into existing systems and turn-key projects on kiosk and queuing kiosk systems.
They seem to use a couple of CMS and signage systems – a system from the Far East for their Pharmacy project and Stratacache from the US for a new project that is just getting off the ground.