Adrian J Cotterill, Editor-in-Chief
Some of our regular readers and industry veterans will know that Solomon Partners' Mark Boidman is a 16-year cancer survivor.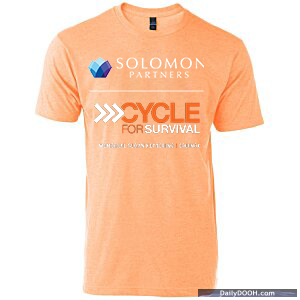 Back in 2020, with help from riders and sponsors, the Solomon Partners team participated in Cycle for Survival and raised a massive USD 80,000+ for cancer research.
Once again this year, he and his team are raising money for rare cancer research and are looking for:
Riders from OOH media / in store media / pro AV employees / colleagues to join 'Team Solomon' by riding an indoor bike at Equinox 63 in the 2023 Cycle for Survival on March 9th; and/or
Company sponsorships. They are proudly producing Team T-Shirts to wear as they bike that will include the logos of every company sponsoring the Team. It would be great to get a bunch of OOH logos on the Team T-Shirt. Please see the attached for a rough mockup of the 2023 Solomon Team T-shirt**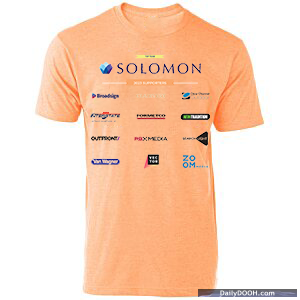 Cycle for Survival is the movement to beat rare cancers, 100% of every dollar raised supports research discoveries and clinical breakthroughs that benefit people impacted by rare cancers all over the world.
This is the second year that Solomon Partners are participating and they are really excited to make it bigger than ever to honor the legacy of people who pass away way too soon from these rare cancers.
Rare cancer research is underfunded, and people diagnosed with these diseases often have limited to no treatment options. Your generosity helps fill the funding gap and gives people with a rare cancer hope for a better future.
You can also visit their fundraising page here.
** There is no minimum donation to sponsor the team and get a logo on a team t-shirt.