Pikasso and Hic Mobile have announced a partnership to enable retargeting on mobile, allowing the engagement of consumers on both big and small screens, at any moment of the day by any person passing by one of the Pikasso digital screens or billboards.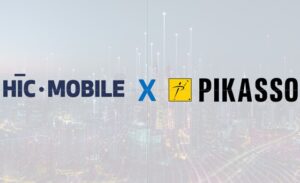 Francesca Vincenti, Head of Programmatic and Innovation at Pikasso told us "We are delighted to propose to agencies and clients an additional service that complements and reinforces OOH Campaigns. Coupling OOH/DOOH & Mobile Advertising will amplify their individual impact, enhance brand recall and engagement and improve campaign efficiency to drive to store while maximizing the results of their ad spend. Thanks to Hic Mobile … brands in our markets can leverage the high mobile penetration and engage with consumers in the real-world and in the digital-world."
Hic Mobile is a leading Italian Mobile Marketing Specialist focused on Proximity Marketing, this partnership will allow brands to create a measurable omnichannel brand experience.
A lot of recent global research repeatedly demonstrates that OOH is the best primer for mobile engagement. If planned and executed correctly, the convergence of the two formats will drive the consumer further down the purchase funnel; by keeping track of when the interest is generated when exposed to a screen or billboard followed by the retargeting on mobile leading to the initiation of an online search or click of an ad and eventual purchase of the product/service at a real store. Advertisers are now able to see a clear path that began from a geofenced OOH location.
Max Willinger, co-founder of Hic Mobile said "All clients using this media mix will be able to maximize results and optimize their budgets, taking the best of what cross media campaigns have to offer. Pikasso, international OOH/DOOH leader, listens carefully to market needs and once again has demonstrated to be innovative and always one step ahead!".
Pikasso is the number one Out-of-Home advertising company across the Levant (Lebanon, Jordan, Iraq), leader in North Africa (Algeria, Tunisia, Morocco), West Africa (Ivory Coast, Senegal, Mali) and the Caucasus (Armenia) and has extended its activity to Italy. With more than 13,000 advertising faces, 450 digital screens, 73 exclusive concessions, with a presence in 435 cities of 11 countries, and 300 highly qualified professionals, the Group operates in all the segments of Out-of-Home & DOOH: Billboards, Street Furniture, Transport advertising, and Malls.
Hic Mobile was founded in 2013 in Milan by Max Willinger and Enrico Majer. It's recognised by Il Sole 24 Ore as one of the leading companies for growth in recent years in Italy and included by the Financial Times in the FT1000 among Europe's fastest-growing companies.