Adrian J Cotterill, Editor-in-Chief
Under the theme of 'Leading the Way' Clear Channel Outdoor's team has created digital OOH advertisements highlighting Asian American and Pacific Islander (AAPI) leaders, trailblazers and change agents from the worlds of business, sports and entertainment, as well as those fighting for civil rights.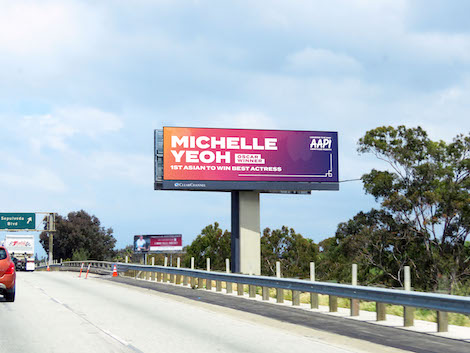 Their campaign recognises the accomplishments of these AAPI community luminaries and the tremendous impact they have had, or are currently making, in every arena of our shared American experience.
Bowen Yang, Comedian – First Chinese American SNL Cast Member
Christine Sun Kim, Sound Artist – Accessibility Champion for the Deaf
Cynthia Choi, Civil Rights Activist – Co-Founder, Stop AAPI Hate
Dale Ho, ACLU Lawyer – Fighter for Voting Rights
Kamala Harris, VP, USA – First South Asian American Vice President of the Unites States
Michelle Yeoh, Oscar Winner – First Asian to Win Best Actress
Vijay Singh, Masters Winner – First South Asian Title Holder
The creative will run across Clear Channel Outdoor's nationwide digital network through the end of May. We are told that special thanks needs to go to Kevin Ordonez from the Clear Channel Outdoor corporate creative team along with Andrew Paramo, Art Director, Clear Channel Outdoor-SoCal and Daryl Quitalig, Art Director, Clear Channel Outdoor-Midwest, for lending their creative talents to showcase the individuals featured in the canpaign and their accomplishments.