Adrian J Cotterill, Editor-in-Chief
Innovative recycling technologies firm Olyns has announced a Series A financing of USS 4 million, led by Vanedge Capital.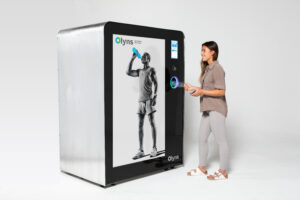 We are told that the funding will accelerate Olyns' development of AI-driven technology and expand its dual recycling and media network.
"Olyns set out to address the challenges surrounding plastic waste by rethinking the consumer recycling ecosystem," said Philip Stanger, Co-Founder and CEO of Olyns. "Momentum is growing, and this funding will help us expand and grow our network, which is proven to be both profitable and scalable. The investment will accelerate the development of our technology and build out our network of Cubes, bringing us closer to changing the perception of recycling and improving recycling rates in the United States and around the globe. More than 140 million tons of plastic from packaging become waste every year, accounting for over 45% of all plastic waste generated in the world. Consumer goods companies have been searching for ways to reduce their impact and build a sustainable, circular model for their products. Olyns will help make that a reality."
With its eye-catching container collection Cubes, Olyns innovates at the nexus of retail media and recycling. Rethinking the technology and business model for recycling, Olyns' Cubes use sophisticated AI techniques and algorithms that can identify any container. The Cubes also introduce a new revenue paradigm for recycling by doubling as retail media displays and providing data-driven insights into consumer recycling behavior and brand-specific recycling rates.
Olyns' advertising-driven business model delivers value to site hosts, brands, and people. Retail partners gain foot traffic, a share of revenue from ad sales, and a turnkey recycling solution; brand advertisers reach consumers in-store and enhance their sustainability credentials; and customers gain access to convenient recycling, bottle deposit redemptions (in 'bottle bill' states), and valuable rewards.
"Innovating the consumer approach to plastic waste is an essential step in the shift to a circular economy. The Olyns platform is a proven, effective, and profitable model that shifts the consumer recycling paradigm," said Paul Lee, Managing Partner at Vanedge Capital. "We are excited to support their talented founding team, who came out of Apple, on their mission to build a business that can make a meaningful difference and impact."
Olyns currently partners with The Coca-Cola Company, PepsiCo, and Mars Wrigley and is expanding its network of recycling Cubes in California, Georgia, and other US states.
Vanedge Capital is a Vancouver based venture fund investing in early-stage companies building foundational new technologies that have potential to meaningfully improve the world, focusing on next generation analytics, computational biology, and disruptive hardtech platforms. The team of professionals at Vanedge leverage their strong network connections and significant operating expertise to accelerate the growth of these game-changing companies.