Adrian J Cotterill, Editor-in-Chief
Global advertising technology leader The Trade Desk (Nasdaq: TTD) this week launched Kokai, billed as a new approach to digital advertising innovation that incorporates major advances in distributed #AI, measurement, partner integrations and a revolutionary, intuitive user experience.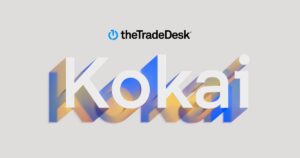 With these innovations and others, Kokai ensures that marketers at all levels can easily benefit from the full power and sophistication of programmatic advertising.
In a major advancement in programmatic AI, Kokai distributes deep learning algorithms across all aspects of the digital media buying process. With access to more than 13 million advertising impressions every second, each of which may contain thousands of distinct signals, Kokai's AI innovations serve as a co-pilot to the programmatic marketer, helping make sense of that complexity in a few milliseconds – in order to help advertisers buy the right ad impressions, at the right price, to reach the target audience at the best time.
Kokai's distributed AI capabilities build on The Trade Desk's pioneering AI work with Koa, launched back in 2018. While Koa assisted the marketer in setting up campaigns based on business objectives and optimizing based on performance, Kokai distributes the power of Koa's AI across various aspects of media buying on The Trade Desk platform. This includes predictive clearing, which ensures traders make bids at the optimal level; scoring every ad impression based on relevance to the advertiser; upgrading measurement and forecasting; increasing resilience, even in the absence of identifiers; budget optimization; and KPI scoring.
"The Trade Desk benefits from a rich yet highly complex dataset with very high integrity. With Kokai, we are able to help our clients make sense of that data with AI, and help the marketer make the best decisions at every turn," said Jeff Green, Founder and CEO, The Trade Desk. "Building on our ground-breaking work with Koa, we are distributing AI across our platform, so that it can serve as an expertly trained co-pilot to today's modern marketer."
Kokai will also feature major new innovations in digital advertising measurement. As more advertisers embrace the power of connected TV and retail media marketing opportunities, there is more demand to develop new ways to measure performance in these key channels.
With Kokai, The Trade Desk will be launching:
Added-value retail measurement data from pioneer retailers including Albertsons Media Collective, Walgreens Advertising Group, and others when audience data is turned on.
The Retail Sales Index – A new benchmark for measuring online and offline retail sales against retail ad spend – in one place.
The TV Quality Index – Measuring the quality of the ad experience that the viewer is having across all streaming platforms and streaming content, to ensure that every campaign targets the most relevant inventory for any specific audience group.
The Quality Reach Index – Helping marketers expand their loyal customer base by accurately targeting the most relevant customer profiles.
At launch, a new Partner Portal will incorporate standard adapters for key areas such as OpenPath, Unified ID 2.0, retail onboarding, measurement and third-party audience data and contextual targeting. In alpha phase, the Partner Portal has successfully helped more than 400 partners integrate seamlessly over the last two quarters.
We asked ChatGPT what you would call a conference around the subjects of Generative AI, Machine Learning and ChatGPT and how they might affect the Out of Home industry.
It came up with 'AdAI: OOH – Conference. The Impact of Generative AI, Machine Learning and ChatGPT on Out-of-Home Advertising'.
It's an event that we are currently exploring and one that could be held in Toronto as soon as November.