Join the Canadian Out-of-home Marketing and Measurement Bureau (COMMB) on a webinar this Wednesday August 16 where they will explore the dynamic landscape of place-based advertising and its intersection with outdoor advertising.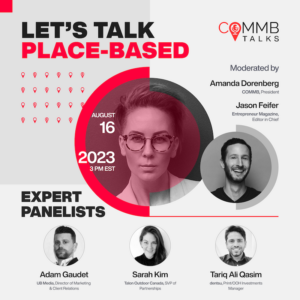 The shift towards harnessing the power of indoor spaces has opened up new possibilities for marketers, brands, and media owners and panelists from UB Media, Talon Outdoor, and dentsu will share the strategies, benefits, and emerging trends that shape the effective utilization of place-based environments.
Panelists include:-
Adam Gaudet, UB Media, Director of Marketing & Client Relations
Sarah Kim, Talon Outdoor Canada, SVP of Partnerships
Tariq Ali Qasim, dentsu, Print/OOH Investments Manager
The event takes place Wednesday August 16 between 15:00-16:00 EST and will be moderated by Amanda Dorenberg, COMMB, President and Jason Feifer, Entrepreneur Magazine, Editor in Chief
Registration can be found here.