Adrian J Cotterill, Editor-in-Chief
Doohstuff and Meteo Consult have entered into a collaborative partnership in which Doohstuff will exclusively provide the current weather conditions and forecast for 95% of the world for everyone working within the Digital Out Of Home market.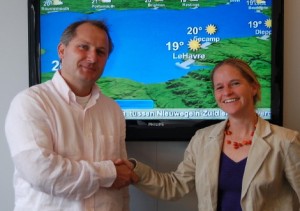 Doohstuff tell us that they will apply the simple pricing and license agreement that it has for all of its content: a low price for an agreed-upon period for both commercial as well as editorial use within DOOH networks.
Doohstuff we believe will be offering weather forecasts for at least 30% discount compared to the standard market price for weather reports.
Piet Hein Goossens, General Manager of Doohstuff told us "With Doohstuff we not only want to provide the right content to our customers but we also want to be sure that our suppliers are reliable and viable. This is because the power of our database is partly based on the professionalism of our suppliers. I am also very pleased with our collaboration with Meteo Consult, one of the leading players in the area of weather reporting in Europe,"
Annelies Mosch, Marketing Manager Meteo Consult told us "Doohstuff's plans and ambitions fit well with Meteo Consult; making our weather information accessible in a creative manner is first priority."
Doohstuff provides the weather report plus the three-day weather forecast starting at €119.00 per year per location and the more locations, the lower the price.