Gail Chiasson, North American Editor
Clear Channel Outdoor Canada,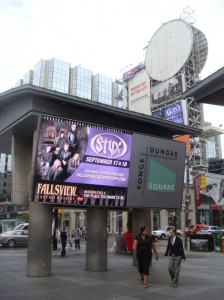 Toronto, has installed two digital displays in that city's Yonge Dundas Square with the latest in Light Emitting Diode technology.
The new 12' x 9' screens are 8 mm resolution, making them the sharpest of all the signs at the popular square, as well as the only street level LEDs in the area.
Live feed capabilities and wireless sound allow for real time broadcasts.
Both digital displays also accommodate full motion or static images – making them the ideal complement to existing print campaigns, or as a stand alone option.
"These street level digital displays command the attention of pedestrian and vehicular traffic, making this a very unique opportunity for advertisers to speak to a wide audience" says Freeman White, vice-president of sales development for Clear Channel Outdoor. Studies show that the area enjoys a daily circulation of 117,000, with major universities, theatre and shopping districts in close proximity.
The LED modules were installed by Tribar Industries. The stainless steel facades were designed and installed by Provincial Signs of Montreal.
Clear Channel Outdoor Company Canada manages a national network of malls, airports, transit, spectacular signage and digital displays. With a presence in 55 markets in major urban and regional centres across the country, it also operates Canada's first airport television news network: CBC News Express.