Adrian J Cotterill, Editor-in-Chief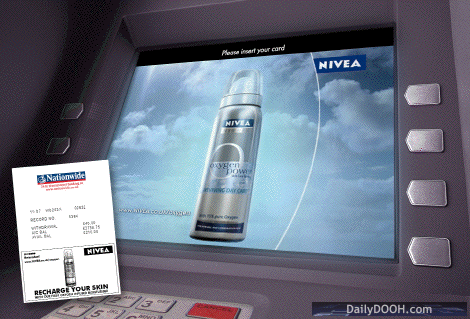 Here's a great example of 'narrowcasting' as our Dutch friends would say (apart from describing it as a very narrowly targeted campaign what else to call it) – this advert for Nivea Visage Oxygen Power will run via the ATM:ad network on cash machines CLOSE to Boots and Superdrug stores!
The media agency Carat, may also finally be getting to grips with the sector as well, Romy Hutchins, Communications Planning Account Director at Carat who handled the campaign for Beiersdorf was quoted as saying "ATM:ad allows us to reach the female audience in a targeted and accountable way"
Beiersdorf UK Ltd, a leading skin and beauty care company, will be using ATM:ad. to promote the NIVEA VISAGE Oxygen Power day care and cleanser products during transaction 'waiting-time'.
The campaign which was bought by Posterscope runs for two weeks from Monday, May 5, 2008.