Gail Chiasson, North American Editor
What would you say if the whole world were listening?
Step Up to the Mic, a three-week joint promotion now underway between Titan and MySpace, is giving people the opportunity to have their thoughts broadcast on more than 300 digital screens in New York, Chicago, Philadelphia, Dublin, London, Liverpool, Manchester, Edinburgh, Glasgow, Leeds and Birmingham.
The promotion is using Titan's global network of digital Out-of-Home screens and the vocal power of MySpace's users in the U.S., U.K. and Ireland.
To participate, all the user has to do is visit the official Step Up to the Mic page on MySpace and upload up to 50 characters of text and an image.
Submitted messages are then sent to Titan to broadcast on its screens, enabling participants to share their thoughts, send family and friends wishes, and voice anything they want the world to know, whether it be profound or just fun.
Further, celebrities and music artists have been invited to take part, to promote their passion projects and communicate with fans.
The project is expected to act as a barometer of the mood of people and what they are passionate about right now.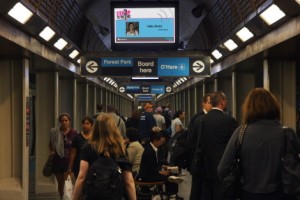 "The convergence of social media and digital out-of-home advertising is actually happening as a result of Titan's partnership with MySpace." says Bill Apfelbaum, Titan chairman. "The ability to create and connect communities through Titan's digital signs located around the world and the ability for advertisers to interact with and connect with their target audiences on a real-time basis now exists."
"MySpace has continuously provided our users with online and offline capabilities on a global level," says Angela Courtin, senior vice-president of marketing entertainment and content at MySpace. "The project with Titan reaffirms that offering by marrying the world of advertising with socialization and sharing. It enables our users to broadcast themselves in a creative and innovative manner, just as they do on the site."
Titan's digital screens are seen by a potential monthly audience of over 52 million globally.