Adrian J Cotterill, Editor-in-Chief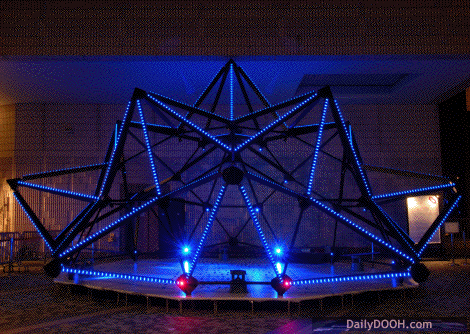 Not a screen per se but an interesting use of LED by self styled 'LED artist' Teddy Lo displayed at the Hong Kong Museum of Arts.
Teddy Lo used the latest Lighthouse LED technology for this creation at the A-Glow-Glow Macro Interactive Media Arts Exhibition which took place 11th – 20th April 2008.
The piece is called 'Phaeodaria' and comprised around 80 pieces of Lighthouse's brand new creative video solution – the LEDscape® Bar – arranged to form an eight metre diameter geodesic dome.
Lighthouse LEDscape® Bar comprises a matrix of 32 RGB LED pixels in a weatherproof enclosure measuring two metres long by 35mm wide. With a pixel brightness of 15,625 mcd, wide viewing angles and Lighthouse's proprietary technology ensuring remarkable colour uniformity – 28.15 trillion colours can be accurately reproduced – LEDscape® Bar is the ideal solution for large scale installations – both indoor and outdoor – where the inventive and eye-catching use of light are essential.