Adrian J Cotterill, Editor-in-Chief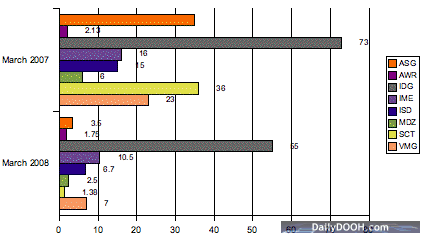 The May 2008 issue of ScreenMedia magazine (should be published shortly) features an article from us about Fund Raising, IPO's and also looks at some of the pitfalls of the Alternative Investment Market (AIM) for already listed companies.
One of the areas we explore in the article is the historical trend of (already) listed UK companies, the graph here shows the share price of our DailyDOOH AIM Portfolio between March 2007 and March 2008 and as you can see for an investor it makes grim reading!
Notes on the Graph:

ASG share price taken in April 2007 at time of de-merger from Avanti Communications
IDG shares listed on AIM July 2007
Imagesound of course since we wrote that article have decided to de-list from AIM
VMG was formerly SFX
SFX shares were 0.23 pence (¼ of penny) in March 2007 but have been adjusted here to reflect RNS Number:2650G the 100 for 1 share consolidation
However, it's not all doom and gloom as we start the article by saying that literally in the last few months we have seen the likes of Breezetech, Screen Technologies Ltd, Obus plc (ultimate owners of IntaTV) and probably most impressively Vision Media Group (formerly ScreenFX) all raise significant amounts of money!!!