Both South Yorkshire and North Yorkshire Police Constabularies have recently turned to Media Displays to target local communities with tailored messages helping to raise the profile of their current activities. We particularly liked this missing person's alert.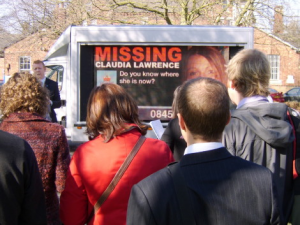 Ian Taylor managing director of Media Displays told us "As the digital landscape within our homes has changed massively over recent years, we are now seeing changes in the digital out of home arena, and as consumers we are becoming ever-more demanding and difficult to reach. Our TV advertising vehicles allow outdoor media campaigns to reach highly targeted groups of people, who have previously been difficult to target due to factors such as geographic locations, language barriers and social influences."
In South Yorkshire, Media Displays was appointed by the Neighbourhood Alliance – a partnership group comprising South Yorkshire Police, the county's local authorities and other community support organisations – to raise awareness of its activities by communicating good news stories in the Stainforth and Armthorpe areas of Doncaster.
Ian Taylor added "These recent Yorkshire-focused campaigns are prime examples of how we work closely with our clients to create a package tailored to their needs and requirements. Our new solutions will allow us to add something extra and really stand out in a crowded media marketplace. We are proud to be a Yorkshire-based company and proud to be working for high profile organisations across the region."